(App) Flickr
iphone apps for free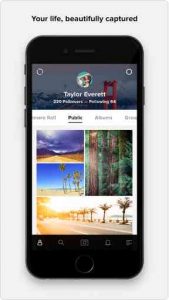 App Description :
Join the largest, most influential community of photographers in the world. Upload, edit, and share your photos from any device, anytime.
App Features :
Find your inspiration, find your people. Flickr is home to billions of photos and millions of groups of passionate photographers.
Organization and sharing made simple. Browse with ease, select and organize hundreds of photos with one gesture, and share in seconds.
Unleash your creativity. Edit your photos, add filters, crop images, and more!
Flickr has joined the SmugMug family! Learn more at www.smugmug.com/together
We're committed to making Flickr a better place to grow, and we'd like to hear your feedback.
Let us know your thoughts here: help.flickr.com/contact/contact-us-rkBc7roJQ
Additional Information :
Compatible with iPhone, iPad, and iPod touch. Apple TV.
Requires iOS 9.3 or later.
Size 92.3 MB
User Reviews :
As an active Flickr member, I follow the Flickr Explore rather closely. I've observe that the first 50 or so spots are always reserved for a small "elite" group of photographers. Whenever those photographers post pictures they will be in Explore at the top spots. One can say that those are outstanding photos and deserve to be on Explore and I have to give you that. Now for the rest of Explore spots, I found that they usually goes to the newer members or to the members with very little activities. They have very small number of follower and following, rarely viewing and faving other member's works. I understand that getting the newer members on Explore is a great encouragement, but at the same time it also encourage some members to be inactive for it will increase their chance to be on Explore. It also left out many of us who stay active but have little or no chance to get on.
500PX has a Popular category. In order to get to the front of the Popular page, a photo needs to has many likes. Other than having a great photo, to get more likes one has to like other's photos. I think that is a much more positive approach, to get everyone involves, not the other way around.
We all want our photos to be on Explore. Can't it be more fair and let everyone has a chance as we all need encouragement.
I have 12,000 photos uploaded to Flickr. None are public. I use Flickr as a storing app just to store my photos so I can save space on my phone, camera, and computer. You can choose to make your photos and albums either public or private. You get 1 TB of storage. You don't have to pay for it, or watch ads, etc. You get that much storage right from the start. I have 12,000 photos uploaded and I'm only using around 3% of that storage! All of my life's photos are stored on here. Baby pictures, pictures of my art and writings, pretty much ALL of my childhood photos, selfies, photos of my pets, etc. My Flickr account and what's on it is my pride and joy. I feel safe storing these photos on here just for me to enjoy.
Flickr is easy to use, free, organized, and there's no pop-up ads. No ads at all I think (remember, I only use Flickr privately).
You can make albums, but Flickr automatically organizes all of your photos by the date they were taken.
I highly recommend this app.
The ONLY thing I can complain about is that it doesn't hold videos longer than 3 minutes. And it takes a really long time to upload videos, no matter how short they are. It's a shame because I would love to store videos on here too, but for now it's great for all my photos.
Get Flickr from App Store
What is your opinion about Flickr
Bitcoin
Ethereum
MetaMask (ETH)
Xrp
Polkadot
Binance coin
Stellar
Dogecoin
Tron
Elrond
Donate Bitcoin to this address
Scan the QR code or copy the address below into your wallet to send some Bitcoin
Donate Ethereum to this address
Scan the QR code or copy the address below into your wallet to send some Ethereum
Donate Xrp to this address
Scan the QR code or copy the address below into your wallet to send some Xrp
Donate Polkadot to this address
Scan the QR code or copy the address below into your wallet to send some Polkadot
Donate Binance coin to this address
Scan the QR code or copy the address below into your wallet to send some Binance coin
Donate Stellar to this address
Scan the QR code or copy the address below into your wallet to send some Stellar
Donate Dogecoin to this address
Scan the QR code or copy the address below into your wallet to send some Dogecoin
Donate Tron to this address
Scan the QR code or copy the address below into your wallet to send some Tron
Donate Elrond to this address
Scan the QR code or copy the address below into your wallet to send some Elrond