(App) First 5
 iphone apps for free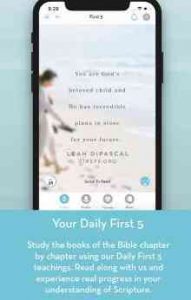 App Description :
Transform your time with God using the First 5 app, developed by Proverbs 31 Ministries. We believe in giving the Lord our firsts! So it only makes sense for us to give Him our first thoughts of each day. First 5 was specifically designed to greet you with a short teaching in God's Word first, before you get distracted by social media and everything else screaming for your attention. It will equip you to better study and know the Word of God.
App Features :
One Chapter a Day: We unpack books of the bible, focusing on one passage of scripture per day. So, instead of your daily scripture being random, First 5 will help you start to sense real progress in your understanding of the Bible.
Highlight, Save and Share: You can now highlight any portion of our daily teachings to bookmark, share or add a personal note. Review your notes and activity through your Profile and use the new export feature to save them to your device.
Reminder Functionality: Set up a reminder in the app and choose a custom message to bring you into the Word.
Daily Scriptural Teaching: When you turn off your First 5 reminder, you'll go straight to a daily Teaching.
Additional Information :
Compatible with iPhone, iPad, and iPod touch.
Requires iOS 10.0 or later.
Size 21 MB
User Reviews :
I love this app! I have been using it consistently for 2 years….every day! It's easy to open up the app find your devotion for the day. It's goes chapter by chapter each day for a book of the Bible. I use the Bible Gateway app and have the chapter for the day read to me in dramatized version so I know who is talking. I then love to dig deep on how God is speaking to me trough this chapter and the devotion written on the app. You can go really deep and read the more section and look up all the verses. I love the comments section as well. People mostly women comment by answering the question of the day as to what God taught them through this. This is one of my favorite parts because you learn you are not alone in your relationship with God and other people have struggles and victories as well! On the weekends is a video teaching that is always perfect! Thank you first 5 you have helped me in my relationship with God!
The First5 app Bible study app is literally life-changing. As its name says, it allows you to take a few minutes, perhaps your first minutes of the day, and spend time in God's Word. I love it, the teachers are insightful and truly make you think. My suggestions for improvements are minor; I will continue using the app even if these features remain the same:
1) I wish users could be alerted to comments *for them* from other users. When I comment on a post currently, the app notes it in the top right corner, with a circle that remains at 0 but changes number to reflect responses to your comment—- except they're not all responses to your comment. They're responses to *every* comment on that post. I would like to just be alerted when it is a direct response to a comment I made. When it's a post that has received lots of comments, the number of alerts is high.
2) In the My Moments section, a question is usually asked and users can provide a comment. Sometimes, I like to see the original phrasing of the question but when I scroll up, the app brings up a mini-menu "Discard Comment?" And then 3 choices: Yes/Save for Later/Cancel. I would like to be able to scroll up without the interruption of the menu.
Thank you again for all your work on this app. It's tremendous and I'm thankful for it.
Get First 5 from App Store
What is your opinion about First 5
Bitcoin
Ethereum
MetaMask (ETH)
Xrp
Polkadot
Binance coin
Stellar
Dogecoin
Tron
Elrond
Donate Bitcoin to this address
Scan the QR code or copy the address below into your wallet to send some Bitcoin
Donate Ethereum to this address
Scan the QR code or copy the address below into your wallet to send some Ethereum
Donate Xrp to this address
Scan the QR code or copy the address below into your wallet to send some Xrp
Donate Polkadot to this address
Scan the QR code or copy the address below into your wallet to send some Polkadot
Donate Binance coin to this address
Scan the QR code or copy the address below into your wallet to send some Binance coin
Donate Stellar to this address
Scan the QR code or copy the address below into your wallet to send some Stellar
Donate Dogecoin to this address
Scan the QR code or copy the address below into your wallet to send some Dogecoin
Donate Tron to this address
Scan the QR code or copy the address below into your wallet to send some Tron
Donate Elrond to this address
Scan the QR code or copy the address below into your wallet to send some Elrond