(Game) Dragon Village the beginning
 iphone games for free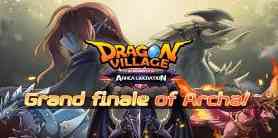 Game Description :
Charge to Archa! Season 5, Episode 3 "Liberation of Archa" Update!
Real battle begins in the new world
Game Features :
PLEASE NOTE
Items may be purchased outside of the game with In App Billing through the use of real life money.
(According to Consumer Protection Act all transaction cancellations can be restricted. Please e-mail support@highbrow-inc.com for further details.)
In order to load your personal data in this game, you must be connected to either 3G/4G/WIFI.
Dragon Village Website : www.dragonvillage.net
Publisher Website: www.highbrow-inc.com
Additional Information :
Compatible with iPhone, iPad, and iPod touch.
Requires iOS 8.0 or later.
Size 862.3 MB
User Reviews :
This is such a great game. Much better than the first one, which used waaay too much battery life and would make my phone go really hot, but this one only uses maybe 3-4 %. One thing that I think should be added, that's also part of the "mini dragon village": getting diamonds when you discover a dragon or even just the card. That would be a much better way to get the regular diamonds that are needed to get the incubators that hatch the dragons, which you should at least make it where the regular incubators are purchasable with gold, even if it's a high amount, cause diamonds for the regular one is kind of "pay to win", which I hope this game isn't one of those kind of games. Also speaking of the dragons, the breeding time should be cut down to at least 3 hrs or less, depending on if it's a new combo or whatever, instead of the crazy 11 hrs that it is now. I think that once you do this, you'll have the perfect game. Hope y'all will at least look at my suggestions. Ps- please make y'all website English compatible lol would make it a lot easier to check out the forums and things.
I've been playing this game for a few years now and I really enjoy it. Some of the translations are a little messed up but you can mostly figure things out. There is one thing I want from the game deva to add, more information on how to get some of the rarer dragons, Like Dark Nix. I had to google how to get one of them and even after I googled it it took a bit of searching to find out where to get one. Anyways, great game, recommended to literally everyone.
So I've been playing and of course like some people say you get logged out sometimes, but my problem is when it says to get an update on the game I click the button and it leads me to the App Store with dragon village saying open. I went back on and it said it again, I have a huge problem with this.
I absolutely love this game! I think what would make it better is a ranking system in the colosseum for people to actually have a chance against others of their own ranks and dragons levels.
I like the game. I just wish more stuff in the game's in app purchases were in english or player's native language. Same for the game website.
Great game rng gets hardcore at times for egg shards and almost forces you to buy currency at least once but game is still pretty good
I love playing this game because it's fun, competitive and I love dragons. But I have 3 things to say: 1.- about every 5 minutes it will lag me out of the game. I'm not too sure if it's my device or DV but it happens to my brother too. 2.-Can you guys try to make more things English? There's a lot of Japanese (or Chinese) words that I unfortunately don't understand, and I would like to know what they mean. And 3.- Can you guys also make a colosseum for only Crown ranked players? Whenever I go into a tornament hoping to win (I'm a silver star) I almost ALWAYS see a crown and it kinda just ruins the fun. So I think Crown ranked people should ONLY be able to play against other Crowns so it's more fair for starters. But otherwise it's a great game! 🙂
Get Dragon Village from App Store
What is your opinion about Dragon Village
Bitcoin
Ethereum
MetaMask (ETH)
Xrp
Polkadot
Binance coin
Stellar
Dogecoin
Tron
Elrond
Donate Bitcoin to this address
Scan the QR code or copy the address below into your wallet to send some Bitcoin
Donate Ethereum to this address
Scan the QR code or copy the address below into your wallet to send some Ethereum
Donate Xrp to this address
Scan the QR code or copy the address below into your wallet to send some Xrp
Donate Polkadot to this address
Scan the QR code or copy the address below into your wallet to send some Polkadot
Donate Binance coin to this address
Scan the QR code or copy the address below into your wallet to send some Binance coin
Donate Stellar to this address
Scan the QR code or copy the address below into your wallet to send some Stellar
Donate Dogecoin to this address
Scan the QR code or copy the address below into your wallet to send some Dogecoin
Donate Tron to this address
Scan the QR code or copy the address below into your wallet to send some Tron
Donate Elrond to this address
Scan the QR code or copy the address below into your wallet to send some Elrond