Fabulous – Daily Habit Tracker app by Fabulous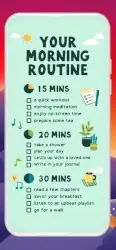 App Description :
Welcome to the world of Fabulous. Unlock the power of habits and routines. Prioritize your mental health, build healthy habits and improve your life one step at a time. Fabulous started as a habit tracker, but it evolved into a self-improvement, coaching, and mental health platform. Our goal is to make healthy routines an inseparable part of your life.
How does Fabulous work?
1 – Add structure to your life – Improve your life with a healthy morning routine that provides a system for your everyday life.
2 – Create healthy habits – Use a daily planner to remember important tasks. Your habits sculpt the person you will become — choose them wisely.
3 – Focus on deep work – Learn how to tune out all the noise and concentrate on the task.
4 – Join a community – Live challenges will introduce you to other Fabulous members worldwide embarking on the same journey as you. Find motivation by connecting with hundreds of members all across the globe.
5 – Learn how to be grateful – Keep your gratitude journal and listen to positive daily affirmations.
App Features :
Fabulous is an all-in-one routine & self-care app for everyday life:
Listen to the daily coaching series.
Write your to-do list.
Journal your thoughts.
Do short workouts and breathing exercises.
Listen to daily affirmations and meditation sessions.
Keep your gratitude journal.
Monitor your mental wellbeing.
Use the goal-tracker to monitor progress.
Upgrade your planner for exciting additional features that will take the habit tracking to a new level. Achieve your health and productivity goals today with science-proven features:
Coaching series grouped by topics: anxiety, self-love, productivity, or depression.
Unlimited habits for your morning and evening routines.
New Premium Journeys for better mental health, self-care, and fitness.
Personal one-on-one coaching for better motivation and focus.
Top 4 reasons to try the Fabulous app:
1 – Need the motivation to build an indestructible morning routine?
2 – Have an irregular sleep cycle and want to learn how to get a good sleep?
3 – Want to increase your energy level, so you focus the entire day?
4 – Want to improve your mental health through mindfulness so you can cope with anxiety?
Scientifically proven, morning routines are essential to a successful life. No excuses! Start changing your life today and save money using behavioral science. Install Fabulous to get personalized daily habits and achieve your goals.
Pricing in different countries may vary, and actual charges may be converted to your local currency depending on the country of residence. You can always see the exact price in the app. The subscription will automatically renew unless turned off in your iTunes Account Settings at least 24 hours before the current period ends. When you feel the Premium plan is not what you need, you can cancel your subscription at any time.
If you have any questions, visit our website at www.thefabulous.co and click "Contact Us" at the bottom.
Build and track your habits, set goals, learn how to meditate, and build healthy routines. Your journey to self-improvement and better mental health starts today!
This day will come and go. That much is certain
Making it count? Well, that's up to you!
Read our full terms and conditions and our privacy policy at: www.thefabulous.co/terms.html
Additional Information :
Size 320.4 MB
Requires iOS 14.0 or later.
User Reviews :
Game Changer
I am a 24 year old nurse with mental health issues and I have a couple of bad habits I've been trying to eradicate for months. I've tried dozens of apps from habit streaks to accountability apps to online counseling. I installed this app with the intent to explore it and nothing else. But this app is so cleverly designed, it is hard not to love. There are attractive features in this app that will help you build positive habits. Yet, I believe the real hook is the story about you that develops, which happens when you successfully complete your goals. This app does an excellent job of not just making you think, but making you do, which is what I think is the epitome of mental health. It doesn't just strive to improve your mental health, it strives to improve your overall function. The app engages you in multiple ways, which sets it apart from the traditional templates of regular one-on-one convos with people who only roundabout with Pinterest-like "inspirational sayings." I'm genuinely more motivated, more functional, and have made more changes in my life the past two weeks since I've downloaded this app than I have in the last three years. Fabulous mysteriously makes it fun to remind you to be yourself and be healthy and happy at the same time, and keeping those streaks up can be pretty satisfying too. However you use this app, whether it's for a day or for a year – strive to commit to it, and you will reach your happiness.
Changed my life! (Only one issue)
This is probably the best app you could EVER HAVE on your phone. I left a rating a while back but it really deserves a full review. Im a 20 year old college female who suffers from severe mental health issues and addiction, and have for most of my life. I was so depressed that getting up to shower felt like an 8 hour shift, so most of the time i let basic self care take a backseat. During my trip to rock bottom i stumbled across Fabulous. Its exactly what i wanted that other programs didnt have, it keeps you on track and its ENJOYABLE. and i can say its great for people with ocd, adhd, or autism. Now, after only 3 months, i drink water, eat 3 meals, exercise daily, practice mindfulness, and take care of my hygiene better than ever before! Im even about to QUIT VAPING after 4 years, which is something i never thought was possible. I can actually relax at the end of the day because i know i have done everything i need to do, and Fabulous will remind you of that. My mental and physical health have improved so much in so little time, I will probably never stop using this app.

Unfortunately, the poor reviews here arent (completely) asinine. They do have severe billing issues that they have yet to fix. Please, be VERY CAREFUL if you decide to accept a free trial or purchase a subscription. I have fallen victim to the double charging, double subscriptions, etc. (pro tip, contact apple, not fabulous)
Get Fabulous from App Store
What is your opinion about Fabulous
Bitcoin
Ethereum
MetaMask (ETH)
Xrp
Polkadot
Binance coin
Stellar
Dogecoin
Tron
Elrond
Donate Bitcoin to this address
Scan the QR code or copy the address below into your wallet to send some Bitcoin
Donate Ethereum to this address
Scan the QR code or copy the address below into your wallet to send some Ethereum
Donate Xrp to this address
Scan the QR code or copy the address below into your wallet to send some Xrp
Donate Polkadot to this address
Scan the QR code or copy the address below into your wallet to send some Polkadot
Donate Binance coin to this address
Scan the QR code or copy the address below into your wallet to send some Binance coin
Donate Stellar to this address
Scan the QR code or copy the address below into your wallet to send some Stellar
Donate Dogecoin to this address
Scan the QR code or copy the address below into your wallet to send some Dogecoin
Donate Tron to this address
Scan the QR code or copy the address below into your wallet to send some Tron
Donate Elrond to this address
Scan the QR code or copy the address below into your wallet to send some Elrond