(App) Experian Credit Report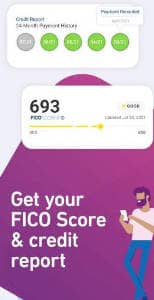 App Description :
Get your FREE Experian Credit Report & FICO® Score* – anytime, anywhere! Checking your own report doesn't hurt your credit, and there's no credit card required. And now, for the first time, you can raise your FICO Score instantly with Experian Boost™**. You'll get the credit you deserve for the utility, cell phone and streaming service payments you're already making.
See what's helping or hurting your FICO® Score, learn how your credit report impacts your FICO Score and interact with your credit in a completely re-imagined way. Always be in the know with credit monitoring and alerts that notify you when key changes to your Experian Credit Report & FICO Score occur.
Plus, take advantage of Experian CreditMatch™*** to find better credit cards and apply with confidence thanks to matches based on your FICO® Score.
App Features :
FREE FICO® SCORE* and EXPERIAN CREDIT REPORT
Track your FICO Score and see which financial behaviors are helping or hurting.
Better understand the kind of information lenders see – like credit accounts, inquiries and public records.
Automatically updates every 30 days upon sign-in.
EXPERIAN BOOST
Connect your accounts to increase your FICO® Score instantly.
Look better to lenders and save money by qualifying for better rates and offers.
EXPERIAN CREDITMATCH
See credit card matches based on your FICO® Score.
Compare your best options and make your choice.
CREDITLOCK
Easily lock your Experian Credit File and guard yourself against identity theft with the touch of a button. Prevent unauthorized credit activity with real-time alerts if someone tries to apply for credit in your name while your credit file is locked.
CREDIT MONITORING & ALERTS
Know when your FICO® Score changes, new accounts are opened in your name or new inquiries appear on your credit report.
Push notifications, when enabled, will send alerts directly to your device.
Bill Negotiator
Upload your bills, and we negotiate for you. If we can't, there is no charge.
ABOUT EXPERIAN®
Experian is the first company and credit bureau to offer online credit reporting services in the U.S. We empower consumers to manage and improve their financial status, while helping protect against fraud and identity theft.
Privacy Policy: usa.experian.com/login/#/publicPrivacyPolicy
Terms & Conditions: usa.experian.com/login/#/publicTermsAndConditionsFree
*Credit score calculated based on FICO® Score 8 model. Your lender or insurer may use a different FICO Score than FICO Score 8 or another type of credit score altogether. To learn more: www.experian.com
Results may vary. Some may not see improved scores or approval odds. Not all lenders use Experian credit files, and not all lenders use scores impacted by Experian Boost.
Based on FICO® Score 8 model. Approval is not guaranteed. Some may not see savings from improved interest rates. Offers are not available in all states. See experian.com for details.
Experian CreditLock is a separate service from Security Freeze: https://www.experian.com/freeze/center.html. To learn more about the differences between CreditLock and Security Freeze, please visit: www.experian.com/blogs/ask-experian/whats-the-difference-between-freezing-or-locking-my-credit/
Bill Negotiator – Results may vary. Some may not receive negotiated discounts or savings. Learn more: www.experian.com/consumer-products/bill-negotiator.com
© 2021 Experian. All rights reserved. Experian. Experian and the Experian trademarks used herein are trademarks or registered trademarks of Experian and its affiliates. The use of any other trade name, copyright, or trademark is for identification and reference purposes only and does not imply any association with the copyright or trademark holder of their product or brand. Other product and company names mentioned herein are the property of their respective owners. Licenses and Disclosures.
Additional Information :
Size 120.5 MB
Requires iOS 13.2 or later.
User Reviews :
I'm 40 and just decided to finally decide to work in my credit.
I'm a 40 year old male and never really worried about credit. I guess cause of growing up with parents they were in the real-estate business and also the vp of my fathers trucking business at 18 I always paid for everything with cash or just wrote a check on the company. Well do to a one of our drivers of my dads trucking business having a horrible fatal accident in my fathers truck it caused a snow ball effect and my father not only lost hi trucking business with 4 6 axel dump trucks he also lost 7 apartment buildings my home and his and my moms. So to make a long story short I was homeless out of a job and lost. I never new much about credit and how it worked. Well over the past 4 months I been checking my credit and trying to build credit. This app has helped me tremendously along with the other 2 bureaus. I was shocked to find out the wrong info on my report also to find out that someone got cell phones cable and other items in my name. Filing a dispute is easy and being able to check my report everyday and getting the alerts is good. I got my very first credit card and my credit went from a 412 to a 617 since using this app and working with the bureaus I know it's not that high but watching it climb gives me something to watch for. Thanks a lot for all the help. Great app
Developer Response ,
Thank you so much for the stars! We're so sorry to hear about losing the business, but we're so happy that you were able to come back from it! We strive to make the app as easy as possible to explore through and learn as much as you can about how you can build your credit. If you ever have any questions, suggestions, or concerns, don't hesitate to reach out. Thanks again and have a great day!
Get Experian Credit Report from App Store
What is your opinion about Experian Credit Report
Bitcoin
Ethereum
MetaMask (ETH)
Xrp
Polkadot
Binance coin
Stellar
Dogecoin
Tron
Elrond
Donate Bitcoin to this address
Scan the QR code or copy the address below into your wallet to send some Bitcoin
Donate Ethereum to this address
Scan the QR code or copy the address below into your wallet to send some Ethereum
Donate Xrp to this address
Scan the QR code or copy the address below into your wallet to send some Xrp
Donate Polkadot to this address
Scan the QR code or copy the address below into your wallet to send some Polkadot
Donate Binance coin to this address
Scan the QR code or copy the address below into your wallet to send some Binance coin
Donate Stellar to this address
Scan the QR code or copy the address below into your wallet to send some Stellar
Donate Dogecoin to this address
Scan the QR code or copy the address below into your wallet to send some Dogecoin
Donate Tron to this address
Scan the QR code or copy the address below into your wallet to send some Tron
Donate Elrond to this address
Scan the QR code or copy the address below into your wallet to send some Elrond