(App) DUFL
 iphoneapps info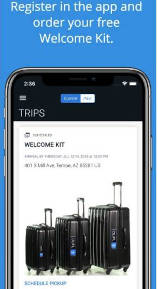 App Description :
DUFL is a premium travel service- a personal valet that simplifies business travel by shipping, cleaning and storing your business attire.
DUFL stores your belongings in your personal DUFL closet and allows you to pack from your phone in about 60 seconds by tapping on the photos of the items you want to take with you. Your professionally packed suitcase will meet you at your hotel so you can travel bag-free. When you're ready to head home, just affix the shipping label provided and leave your bag at the hotel where FedEx picks up. We'll pick it up, clean everything and store it in your DUFL virtual closet until you're ready for your next trip.
App Features :
Register for DUFL and order your Welcome kit for free. We'll send you a large suitcase to fill with all your belongings. When it's ready, request a pick-up in the app.
We'll pick up your bag, clean, photograph and inventory all of your items and place them in your DUFL virtual closet.
When you are ready to travel, enter your arrival date and destination and pack by tapping on the photos of the items you want to take. Your bag will meet you there.
Eliminate the stress of packing and dragging a bag with you. Pack in 60 seconds and save yourself 3-5 hours per round-trip!
Skip the lines at bag check and don't worry about overweight bag fees. You'll be notified when your bag is shipped, received, returned and the status of your items.
When your trip ends, affix the provided shipping label and leave your bag at the hotel for pick up. We'll ship it back to the DUFL warehouse and have everything ready for your next trip.
DUFL: Changing the way the world travels
Additional Information :
Size 27 MB
Requires iOS 8.0 or later.
User Reviews :
Great service for years, then big change.
I used this company for frequent travel from 2014 until just last month. The service was excellent for years. About six months ago, though, everything started to change. Their 24/7 customer service number started only to be staffed during business hours. My bags began to take days even to be opened and processed once they reached their warehouse. My clothing started not to be cleaned and ready for the next trip. I have a feeling that their funding is running out. I am so disappointed because they provided such a valuable service for frequent travelers.
Used to be great. Now pitiful.
I used DUFL for years and tolerated the subpar app and website because of the convenience of having my clothes delivered to hotels around the US. Over the past few months, though, the service has become unreliable and the app doesn't accurately show what's in my "closet" at their facility. That means I have no confidence in what is there and what will be shipped for my trips. The last time I tried using the website, I couldn't get an accurate representation of what they had of mine ready t ship so I just gave up. I just canceled my subscription with them.
Great idea, great app!!!
Just signed up for the service, such a great idea. Love that I don't have to pay to check my bag or hassle finding carry on space. App worked fine for me, if you travel somewhat frequently this will make your life a lot easier!
Great experience!!
I was in the beta and this is totally going to change the way I travel. Great job DUFL team and congrats!
Dead ends at initial sign up?
I love the concept but what good is it if you can't sign up with an account!
Would like to actually use the service.
The app obviously has major bugs that haven't been worked out. Would love to actually try the service but the app thus far isn't up to par. Received invitation code, app hung up on my location and never allowed me to move forward.
Get DUFL from App Store
Leave your feedback regarding DUFL
Bitcoin
Ethereum
MetaMask (ETH)
Xrp
Polkadot
Binance coin
Stellar
Dogecoin
Tron
Elrond
Donate Bitcoin to this address
Scan the QR code or copy the address below into your wallet to send some Bitcoin
Donate Ethereum to this address
Scan the QR code or copy the address below into your wallet to send some Ethereum
Donate Xrp to this address
Scan the QR code or copy the address below into your wallet to send some Xrp
Donate Polkadot to this address
Scan the QR code or copy the address below into your wallet to send some Polkadot
Donate Binance coin to this address
Scan the QR code or copy the address below into your wallet to send some Binance coin
Donate Stellar to this address
Scan the QR code or copy the address below into your wallet to send some Stellar
Donate Dogecoin to this address
Scan the QR code or copy the address below into your wallet to send some Dogecoin
Donate Tron to this address
Scan the QR code or copy the address below into your wallet to send some Tron
Donate Elrond to this address
Scan the QR code or copy the address below into your wallet to send some Elrond