(App) Converter
 iphoneapps info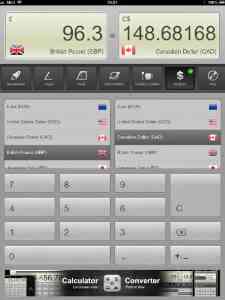 App Description :
Converter is an elegant and simple unit converter. It's especially designed for iPhone, iPad and iPod touch and it takes full advantage of them! Offering a wide range of categories and units to convert, this is all that you would ever need from a converter!
App Features :
Unit/Currency Converter Features:
25+ Categories, 450+ Units
150+ Currencies
Support of 24 Languages
Available categories:
Acceleration, Angle, Area, Astronomical, Cooking Volume, Data, Data Transfer, Energy, Flow, Force, Frequency, Fuel, Length, Luminance, Power, Performance, Pressure, Radiation, Speed, Temperature, Time, Torque, Typography, Volume, Weight, Currencies
Available languages:
English, Deutsch, Dansk, Français, Nederlands, Magyar, Suomi , Português, Italiano, Español, Русский, Svenska, Slovenčina, Bokmål, Türkçe, Ελληνικ, Polski, Čeština, Română, Hrvatski, Українська, 日本語, 简体中文, 한국의
Additional Information :
Size 43.5 MB
Requires iOS 10.0 or later.
User Reviews :
Easy & Quick to Use
This app is easy to use and gives me quick conversions! It is best in class. I have used it for years now: cooking, travel, building, decorating, purchasing, etc. I've tried other apps. But this one is the simplest and quickest to use. The only feedback I have is that the developer could get a lot more traffic/adoption of their app by putting their company name at the bottom and making it easy to share with a URL. Oh… and don't make it slow to use by having ads pop up & block the UI. QUICK to use make this app the champ!
Best one I've found
I've used probably about 6 different conversion apps over the last 8 years or so and this one is the best one so far. I do quite a bit of fabrication / automotive work and this is great for torque conversions, metric to US volume, and length. My wife loves it as well because she is able to use it when she is baking with the apps Cooking Conversions! Highly recommend!
The best and the only one you NEED
Is very complete, exactly and so helpful. I use this app for many differents conversions. Have all what I need. I been using it for 2 years already. Always in others phones I install it but is the only one complete (and yes I did tried many before of other phones when I need) No one compares. Thank you for it!
Beautiful Skeuomorphic Design
If you count the number of times the word "skeuomorphic" (or one of its derivatives) has been used in my reviews, you'll think I'm crazy, which is a good sign because I'm predicting it's comeback. This app didn't cave in to the pressure of the ugly flat trend. The user interface is awesome.
Easy to use, many conversion
I have been using this app and will continue in the future. Intuitive to use, wide selection of conversions, and the ads are positioned visible, but not too intrusive.
Outstanding
This is really useful tool. Different things to calculate immediately without needing to search the web.
GREAT App
Was looking for the "Holy Grail" of Conversion Apps…..downloaded 7 of them and did not find the interface that I was looking for until this one.

HIGHLY RECOMMEND!!!
Very good app and thanks a lot creator
I love this app …. it is very useful and very cool … you can know what is the price of the dolar in the same day o r even with the euro …. I thank the creator … saludos desde ARGENTINA … and MERCI BEAUCOUP ( in French it means thanks a lot
The greatest convertor
Conversion apps have been around since the Palm Taxi. This is the best one of all time. How do these things go unnoticed for so long?
Great Unit Converter
It is easy to use. Great app.

The only thing missing is cubic yard conversion in the volume section. Cubic yard is used in estimating concrete cement needed for example a driveway.
Great app!
Easy to use and handy for a wide range of calculations. Highly recommended
Great
Almost perfect. Scrolling through ALL the currencies to find the one I need drops it to 4 star for me. But overall utility 5 star
Top Notch and Very Versatile
This application covers all the conversions we need. Extremely useful.
I love it. It is so easy!!
I used this app when I travel. I love it.
Get Converter from App Store
What is your opinion about Converter
Bitcoin
Ethereum
MetaMask (ETH)
Xrp
Polkadot
Binance coin
Stellar
Dogecoin
Tron
Elrond
Donate Bitcoin to this address
Scan the QR code or copy the address below into your wallet to send some Bitcoin
Donate Ethereum to this address
Scan the QR code or copy the address below into your wallet to send some Ethereum
Donate Xrp to this address
Scan the QR code or copy the address below into your wallet to send some Xrp
Donate Polkadot to this address
Scan the QR code or copy the address below into your wallet to send some Polkadot
Donate Binance coin to this address
Scan the QR code or copy the address below into your wallet to send some Binance coin
Donate Stellar to this address
Scan the QR code or copy the address below into your wallet to send some Stellar
Donate Dogecoin to this address
Scan the QR code or copy the address below into your wallet to send some Dogecoin
Donate Tron to this address
Scan the QR code or copy the address below into your wallet to send some Tron
Donate Elrond to this address
Scan the QR code or copy the address below into your wallet to send some Elrond