(App) Converter Plus
 iphone apps for free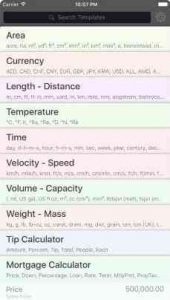 App Description :
Converter+ is a unit converter with the most extensive list of currencies and units in hundreds of categories. Converter Plus also comes with many calculators like mortgage, loan, tip, fuel consumption and many others for everyday problems.
You can edit existing templates, add your own or download templates contributed by other users.
Exchange rates for all 167 world's currencies is refreshed automatically every 6 hours or on request.
App Features :
Converting multiple units/currencies simultaneously
Support for compound units like Pounds + Ounces or Feet + Inches
Full text search to quickly locate categories and units
Built-in standard calculator
Favorite list
Automatic currency exchange rate refresh
Ability to edit units/templates and sharing the templates via email
Ability to download templates from the Converter Plus catalog on the internet
CONVERSIONS/CALCULATIONS:
Converter Plus ships with more than 100 categories, including:
Area, Cooking, Coordinates, Energy and Work, Frequency, Gas Mileage, Length – Distance, Power, Pressure, Temperature, Velocity, Speed, Volume – Capacity, Weight – Mass…
Currency (167 currencies), Inflation 1980-2010 (US), Savings. Loan, Mortgage, Energy Expense, Fuel Economy, Sales Tax, Tip Calculators…
Computer Data (Bytes, MB, KB, GB), Data Transfer, Radix (Hex, Oct, Bin)…
Many scientific unit categories
Notes:
To learn about designing templates in Converter Plus, please visit:
www.trancreative.com/go/CPDocs
Additional Information :
Compatible with iPhone, iPad, and iPod touch.
Requires iOS 8.0 or later.
Size 10.9 MB
User Reviews :
I'm a very picky person when it comes to currency converting apps. I travel a lot and therefore constantly need to convert one currency to another. Most apps convert 1 to another. This app lets you compare 1 to as many as you want and see all of them on the screen. I've set the main 15 currencies I use and when entering the value into one, can easily see how the rate compares to all the other currencies. This really helps with my spending habits. I know this converter does a lot more than currency and while I've used some of the measures, it's the way it handles currency that has me sold. This was probably the 10th currency converter app I have installed since owning the original iPhone back in 2007 and looks like this will be my last. My only gripe was that it should update rates when pulled down to refresh without having to have a value input and this was fixed in the recent update.
I love when developers release applications that are fully functional and add ads to support their work. That gives users the option to try out application and then remove ads with in app purchase to show their appreciation. Too many apps are released these days with no trials or monthly subscriptions. This app is very user friendly. Allowing u to customize things that are important to you. Has been updated for iPhone X screen size. I couldn't ask if anything else. If u haven't tried this out, give it a Go and u will be more than happy to pay for Ad removal to support great developer. I'm going to check out others apps that they created as well. Happy I found this.
Absolutely love this conversion app its one the best out there. What makes it unique is its ability to do several conversions / UOM (units of measurement) for many length, volume, energy, pressure etc.. Most conversion apps you have to put in the known UOM and wanted UOM you are looking to convert to; one at a time. This app also allows you to customize so you can just get those units that you have interest in going back-and-forth from. The other UOMs you are not interested in you can put in the background so you not cluttered with other conversions you're not interested in.
This is one of those apps that can be opened, glanced over quickly, then used effectively almost immediately. The app's simplicity of use in no way reflects its true functional complexity. This is a powerful application. Conversations are quickly calculated and custom-selected conversation values are immediately and clearly displayed. By allowing customized selection of units to display, the desired conversion values are presented in a clear, uncluttered view. Thanks for the free version, and keep up the excellent work!
Get Converter Plus from App Store
What is your opinion about Converter Plus
Bitcoin
Ethereum
MetaMask (ETH)
Xrp
Polkadot
Binance coin
Stellar
Dogecoin
Tron
Elrond
Donate Bitcoin to this address
Scan the QR code or copy the address below into your wallet to send some Bitcoin
Donate Ethereum to this address
Scan the QR code or copy the address below into your wallet to send some Ethereum
Donate Xrp to this address
Scan the QR code or copy the address below into your wallet to send some Xrp
Donate Polkadot to this address
Scan the QR code or copy the address below into your wallet to send some Polkadot
Donate Binance coin to this address
Scan the QR code or copy the address below into your wallet to send some Binance coin
Donate Stellar to this address
Scan the QR code or copy the address below into your wallet to send some Stellar
Donate Dogecoin to this address
Scan the QR code or copy the address below into your wallet to send some Dogecoin
Donate Tron to this address
Scan the QR code or copy the address below into your wallet to send some Tron
Donate Elrond to this address
Scan the QR code or copy the address below into your wallet to send some Elrond