Bubble Arena – Cash Prizes game by Mobile Fox Limited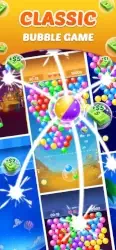 Game Description :
Bubble Arena is a classic puzzle game that you can win real-money prizes with your skill!
It's time to take your bubble shooter skills to the next level and get a chance to win real cash.
In this fast and fun bubble game you will play in competition with real players against the clock in order to maximize your scores. The more bubbles you pop the higher chances of winning! All you need to do is blasting the bubbles and clearing the board as fast as you can.
How to play:
Match at least 3 bubbles in same color.
Blast them away and clear the board.
Simply tap the screen to drag the laser-aim, lift your finger to release the ball.
Cash-out securely using PayPal.
Game Features :
Real-money tournaments.
Fast animations and smooth touch controls.
Collect awesome daily bonuses.
Easy to learn but could be difficult to master, test your brain!
Only takes a few minutes a round, win faster!
If you have any questions please feel free to find us at support[at]mobilefox.club
Get ready now and clear the board quickly before others do to win Real-Money Prizes!
Additional Information :
Age Rating 17+
Size 410.5 MB
Requires iOS 13.0 or later.
User Reviews :
The real secret strat
Okay guys, I have been playing this game since the start or July, and I have made about $150 total. I know it's not a lot but it still is good. So here's what I figured out. First there's gonna be random times where you just win back to back. If this ever happens to you and you have a decent amount of money to withdraw, don't. Keep on playing until you start to lose one. I'm pretty sure this is a glitch since you mostly tend to lose games. But just because it's a glitch and you automatically win games doesn't mean you don't have to try. I would recommend still trying even if you win back to back games. Secondly don't waste any money on this game. You just need to be patient and win the $0.5 every day. I know it takes a while but it's better than spending $5 for nothing. Lastly if you don't have the glitch where you always win and you have a decent amount of money, withdraw it right now. I've once dealt with this and decided to go all out in hopes of doubling my amount, but I placed 4th and went back to $0. So basically the key to this game is being patient and humble but also trying to beat the so called "real opponents." Hope this helps.
THE SECRET STRATEGY!
Is to pay money. Period. Early on by lvl 3 youll get stuck at .90 cents. Youll build tickets but during games the balls arbitrarily change color or you wont get the RNG color you need and time will run out. The clock is actually a tad bit faster than real time. Ive timed it side by side with a stop watch. Also, youll slowly build gold tickets and coins but their tactic is this: Frustrate you with this pace long enough for you to eventually spend money. The downside to hat is that if youre smart, you wont hang around longer than an hour or so to find out this realization. So basically its another app tryna dupe you into spending money and giving up your personal data to sell. The makers are data brokers, disguised as a faming company. I guess theres a sucker born everyday… you can be that sucka, im sure as sheet not one of them.
Just like all the others…
1) Been playing for several weeks now

2) Wouldn't even allow me to provide a review from my phone due to the "Loading" Screen that never seemed to actually load, even after minutes of waiting/refreshing/redownloading… which is why I'm resulting to my iPad to tell y'all the Tea.

3) Just like EVERY OTHER CASH GAME, they let you win in the first few rounds with unlimited time, number of moves, promises of grand cash prizes that we all see on those poorly acted, poorly overdubbed Insta/FB ads that annoy us all, before bombarding you with prompts to pay to play.

4) As someone who's been duped before, I specifically didn't sign my life and personal info away to "Win $$$ immediately available to my PayPal acct" as I'm fairly certain at this point, it's pretty much just a way for Third-Parties to have unlimited access to my bank accounts.

5) I tired playing the game, only to find out, once you enter the actual "competitions", you have literally 90 seconds to clear the entire board against 3-7 other people, who all seem to do just slightly better than you when the results are posted. Thus resulting in a stupid 'coin' (Aka not real money) that gives you access to play more 'coin'- based games that ultimately result in, again, no real money.

6) I managed to win $1 (Or what I thought was $1) turns out, it's 'Bonus Cash' which you can't check out with.

7) In essence, don't bother with this game.
Get Bubble Arena from App Store
What is your opinion about Bubble Arena
Bitcoin
Ethereum
MetaMask (ETH)
Xrp
Polkadot
Binance coin
Stellar
Dogecoin
Tron
Elrond
Donate Bitcoin to this address
Scan the QR code or copy the address below into your wallet to send some Bitcoin
Donate Ethereum to this address
Scan the QR code or copy the address below into your wallet to send some Ethereum
Donate Xrp to this address
Scan the QR code or copy the address below into your wallet to send some Xrp
Donate Polkadot to this address
Scan the QR code or copy the address below into your wallet to send some Polkadot
Donate Binance coin to this address
Scan the QR code or copy the address below into your wallet to send some Binance coin
Donate Stellar to this address
Scan the QR code or copy the address below into your wallet to send some Stellar
Donate Dogecoin to this address
Scan the QR code or copy the address below into your wallet to send some Dogecoin
Donate Tron to this address
Scan the QR code or copy the address below into your wallet to send some Tron
Donate Elrond to this address
Scan the QR code or copy the address below into your wallet to send some Elrond