Bricks Ball Crusher game by 敏 刘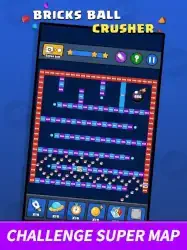 Game Description :
Welcome to "Bricks Ball Crusher"! Bricks Ball Crusher is a classic brick game popular all over the world.
As one of the world's top brick games, Bricks Ball Crusher will provide you with infinite fun. The game contains tens of thousands of well-designed levels and over 200 skill blocks and skill balls for you to explore, as well as different challenge modes, such as "lifesaving mode". What are you waiting for? Try to use the powerful skill ball to aim at and shoot bricks, to experience the magical elimination world.
In the process of playing Bricks Ball Crusher, you can unlock various mysterious skill balls with levels upgrading, discover more hidden playing methods, and even participate in the design of your own unique level to enjoy creation with other global players. If you need a casual game to kill time and relieve pressure, come to
Bricks Ball Crusher to eliminate troubles and create happiness!
Introduction to normal mode:
The ball will fly in any direction you touch
Find the best position and angle to hit each brick
Complete the mission by breaking bricks on the screen
When breaking bricks, never let them touch the bottom
Introduction to rescue mode:
In the interesting and challenging rescue theme, the character is stranded, and you need to break bricks to help him escape. Don't worry, as we have many skill balls and props that can help you get over obstacles and pass difficult levels. Try to use different shooting skills and strategies to break the bricks as quickly as possible to help the character get away.
Game Features :
Free play
Smooth and accurate aiming
10000 + levels
Superb physical playing method experience
More than 200 skill balls and skill blocks
Support offline (no Internet access) games
Support multiplayer games
Support achievements and leader boards
Support subscription
Download Bricks Ball Crusher now, enjoy this fun offline game anywhere, anytime, and compete with friends all over the world!
Subscription Diamond members:
By membership subscription, you can enjoy the exclusive rights of all members.
Please note that subscription prices will be automatically adjusted according to different account regions.
Disclaimer of member automatic renewal: after the purchase is confirmed, the fee will be deducted from the user account.
Subscriptions are automatically renewed unless they are canceled at least 24 hours before the current subscription ends.
The renewal fee will be deducted from your account according to your current subscribed contents within 24 hours before the end of your current subscription period.
After purchase, you can enter the account settings to view the account subscription and activated services.
You can unsubscribe during the free trial period through the subscription settings of your iTunes account. Please be sure to complete it 24 hours before the end of the subscription period to avoid being charged. For more information: support.apple.com/kb/ht4098
You can switch off the automatic renewal through iTunes account settings. However, you cannot cancel the current subscription within the valid subscription period.
During the free trial period, any unused part will be invalidated after purchasing a membership subscription.
Privacy Policy: bricksxballs.wordpress.com/private-policy/
Terms of use: bricksxballs.wordpress.com/terms-of-service/
Additional Information :
Size 285.5 MB
Requires iOS 8.0 or later.
User Reviews :
Awesome and more than just brick breaking.
What can I say? This game is fun! This game is easy! This game is also hard. You can play it in a way that really challenges yourself. You can play just pass the time. There are countless progressive levels, a myriad of power ups, daily challenges, seasonal challenges, achievements, tournaments, and if that wasn't enough, you can also create, edit, and play your own levels, and once you've got up or design refined into something you really enjoy playing, you can then publish it for the world to play also. If it becomes a hit with everybody you receive likes as well as plays on your levels that you can track the progress on all within this little brick breaker app. But don't take my word for it, check it out for yourself, and decide for yourself.

(P.S. To the developers, how do you beat the number three on level fifteen of the percussion challenges? I've been stuck for weeks now on this level…. HELP!!!)

Thanks
Fun but…
This is a uniquely satisfying game of balls flying around everywhere smashing bricks. I'm on level 361. I finally figured out the extra helper thingys like what they do because I can't find any directions or explanations on the app. But the annoying thing is still the issue with how long it takes to get additional lives. It's 5:30 pm and I haven't played since before bed last night. 18 hours have passed and I open the app to 1 life. And for the first time ever, it won't let me watch a video to get a new life. What's up with that? My last review complained about that alone. And it got better for a while. Like someone had seen my review and fixed the problem. But here we are again. It seems to be less of a problem when I close the app from the Home Screen, but I have to watch the ad to even do that. Ridiculous! And the problem isn't even consistently a problem but mostly it is. And up until today, at least I could watch a 30-45 second ad and be on with it. Otherwise I love this game. I even deal with the fact that I have to watch a video before I do anything on the app. And lately, I'll watch an ad and sometimes not even get the reward.
Very fun….gotta do something about those ads
Games need ads, that's fine. But they blast their volume, either turning off the music/podcast you have playing or shouting sounds to your whole classroom because you forgot to turn your phone volume down. If you've silenced the game effects, the ads should be silenced too. Also quite often, you watch an ad and when it ends, you just sit and stare at a frozen screen and it never takes you back to the game so you have to close out and reload and then watch another ad to start again. But I do love the gameplay, except I agree with another review that often the balls don't launch quite where you're aiming. Maybe adding a lock feature where you've got it where you want it and it won't move anymore.

Also, speaking of ads, the ads that are shown are false advertisement! Many aren't anything even close to what they show. I'd really reconsider doing business with liars. It's so frustrating that games know they aren't fun, so they lie about what they are just to rack up their downloads. Maybe they should come up with a better game?
Get Bricks Ball Crusher from App Store
What is your opinion about Bricks Ball Crusher
Bitcoin
Ethereum
MetaMask (ETH)
Xrp
Polkadot
Binance coin
Stellar
Dogecoin
Tron
Elrond
Donate Bitcoin to this address
Scan the QR code or copy the address below into your wallet to send some Bitcoin
Donate Ethereum to this address
Scan the QR code or copy the address below into your wallet to send some Ethereum
Donate Xrp to this address
Scan the QR code or copy the address below into your wallet to send some Xrp
Donate Polkadot to this address
Scan the QR code or copy the address below into your wallet to send some Polkadot
Donate Binance coin to this address
Scan the QR code or copy the address below into your wallet to send some Binance coin
Donate Stellar to this address
Scan the QR code or copy the address below into your wallet to send some Stellar
Donate Dogecoin to this address
Scan the QR code or copy the address below into your wallet to send some Dogecoin
Donate Tron to this address
Scan the QR code or copy the address below into your wallet to send some Tron
Donate Elrond to this address
Scan the QR code or copy the address below into your wallet to send some Elrond