Blackbox app by Grow Pixel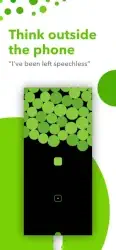 Game Description :
So you think you understand this thing you're holding? Think again. Stop tapping. Stop swiping. In fact, stop touching the screen at all. To crack Blackbox's puzzles you'll need to find solitude and stillness, climb mountains, call on friends, get in tune with the cosmos, and think outside the box.
Game Features :
Minimalistic visual clues make for incredibly satisfying "Aha!" moments, while sonic interfaces provide an extra level of guidance and nuance that makes Blackbox accessible with or without vision. Thoughtful haptic feedback, Easter eggs on Easter eggs, and solutions that can't be found beneath the glass of your screen redefine what a puzzle can be. You'll never see your device the same way again.
Think you're clever? Prove it.
(Blackbox is a living game under active development by Ryan McLeod. When not eating burritos or drinking coffee, he's busy designing and developing new Blackbox challenges.)
Additional Information :
Age Rating 4+
Size 119 MB
Requires iOS 13.0 or later.
User Reviews :
Insane game!!!
At first, I didn't think this game would be challenging. I have played other games that weren't challenging because either the questions weren't hard or I have already seen the questions on another app, but this app is different and unique. I have to admit though, some of the levels are going to take a while to accomplish. I have a few ideas for Ryan, the person who makes the game. So I think you should add an icon that allows us to design our own levels to give to you. There are some creative people who have ideas and also it would help if we don't want to type a comment. Also, I think that if we want to buy the extension pack we should get to know what kind of levels there are. Obviously you can't give us like a few levels to try because you aren't making money. The only reason I say this is because I have gotten a free app before and paid to get the extension but it wasn't much different from the free part. It wasn't worth the money I paid. One last thing, you should add, which you might've already added I just haven't gotten to it, but you should add maybe timed or memory activities. Maybe every 3 seconds there will be an object in one of the boxes and a new one will show up every 3 seconds. Then, after the sequence is over, you have to choose what was shown. Maybe a symbol would stand for whatever was shown. These are just some ideas to extend the game because I would definitely be disappointed if you didn't add anymore levels.
This is the best iOS game I've played in years!
I've only had the game installed for a few days but this has been the source of some of my most frustrating moments, as well as the best feeling of accomplishment, all from a seemingly simple puzzle game. This really threw me for a loop after the first few levels, it looked pretty on the App Store and that's why I downloaded it but this game is so much more than a pretty face. Ryan manages to use every aspect of the technology we have in our pockets in seriously creative ways and (I'm not sure if this was his goal from the beginning, but) it made me really think and appreciate how much tech really is in our phones. I only have two gripes with the app and no ether of them really are the apps fault, but the time based level(s) are bothersome because I know I'll forget to open the level at the right time (I understand that's a me thing). The only other issue I have is while our phones are amazing pieces of technology, they're fragile, I've got a life proof case of mine and I still can manage to cause some sensor or mic to work good enough for every day use but it's not up to spec with a phone out of the box. Other than that it's an amazing game and I'm upset I hadn't heard about it until now.

P.s. Ryan, this is my first ever App Store review so kudos for making something really worth gushing over!

P.p.s. Ryan if you end up reading this, I'm blaming you for my grades on my finals!
Awesome
It is definitely not your average "mind game". This game might actually help people to find out some extra features of their device (although, I already know all the features used by the game)

Edit: If the App Store supported crossing out words, then that last in parentheses would be. This game receives regular updates and more challenges. I wish games of this level of quality, care and character were more abundant on the App Store and elsewhere. I don't like spending money on in-game purchases just for a game, but I do like using my money to support developers that deserve money for awesome and thoughtful games like Black box. I try to make sure that developers like the creator of Blackbox can keep developing games like this and I hope that more developers with similar levels of care, creativity, and outside the box thinking (pun partially intended) start to come out into the light. Also, I think helping people discover the functions of our high-tech phones along with just having this game use every facet of things built into them to solve these challenges is awesome. Especially since this game is not necessarily designed as a discovery game for phone functions but as instead an "everything goes" (within the physical possibilities of our phone) type puzzle. And I love every bit of it.
Developer Response,
I love every bit of this review. Thanks so much for the kind words and support. Supporting your favorite indie devs really is the best way to see more apps like Blackbox on the App Store
Get Blackbox from App Store
What is your opinion about Blackbox
Bitcoin
Ethereum
MetaMask (ETH)
Xrp
Polkadot
Binance coin
Stellar
Dogecoin
Tron
Elrond
Donate Bitcoin to this address
Scan the QR code or copy the address below into your wallet to send some Bitcoin
Donate Ethereum to this address
Scan the QR code or copy the address below into your wallet to send some Ethereum
Donate Xrp to this address
Scan the QR code or copy the address below into your wallet to send some Xrp
Donate Polkadot to this address
Scan the QR code or copy the address below into your wallet to send some Polkadot
Donate Binance coin to this address
Scan the QR code or copy the address below into your wallet to send some Binance coin
Donate Stellar to this address
Scan the QR code or copy the address below into your wallet to send some Stellar
Donate Dogecoin to this address
Scan the QR code or copy the address below into your wallet to send some Dogecoin
Donate Tron to this address
Scan the QR code or copy the address below into your wallet to send some Tron
Donate Elrond to this address
Scan the QR code or copy the address below into your wallet to send some Elrond