(App) Bitmoji
iphone apps news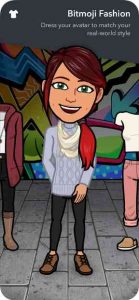 App Description :
Bitmoji is your own personal emoji.
App Features :
Create an expressive cartoon avatar
Choose from a huge library of stickers – all featuring YOU
Use Bitmoji in Snapchat, iMessage and wherever else you chat
Using Bitmoji in Snapchat unlocks friendmoji – 2-person bitmojis featuring you and your friends!
Additional Information :
Compatible with iPhone, iPad, and iPod touch.

Requires iOS 9.0 or later.

Size 124.6 MB
User reviews :
I use Bitmojis since it started on Facebook. I have been here for all the updates, the union with Snap, which was an excellent idea though. I have always wanted to have MORE OUTFITS  FASHION OUTFITS, like, how is the Kim Kardashian's West game more up to date than this one? That said, you NEED to step up your game in terms of fashion 'cause what you already did that you take a pic and it transforms your little you into literally you is the best thing that has ever happened to Bitmoji, although I think you guys did it too late. But it's done and that's the important thing. So, Bitmoji is all about people around the world… I need more diversity in the hairstyles and in everything actually. Get a fashion designer to give you actual outfits that are good for us to be spending our time at the app daily cause there's so much outfits that I can't decide. Step up your game and also, let us play with the bodies a little bit more too 'cause the bodies are still a little weird and I know you guys can do better than that. Oh! And please let us customize the color of THINGS, like, I usually wear white glasses and I love the cat eye glasses that you have but they are boringly brown, I wish I could change their color to white to match mine, everyone this days have colored glasses, you do match the "fashion glasses" but you need to let us customize the colors of everything in there. I love Bitmoji, always will, but with this updates I would give it 5 stars.
When I first got the app, I was in absolute love! All my friends used Bitmoji instead of emojis, so I decided to get it. I was able to customize my character in mere minutes! My sister was unable to get the app, so she asked if she could make one on my phone. I said sure, but there was no "multi-avatar" option. This was frustrating since I really like my current mini-me, but I let her do it. After she finished, she took a picture and let me change it back to mine. I couldn't remember where I had chosen certain things, or my spacing between eyes and stuff that I'd had before. Adding a multi-avatar option seems like an amazing idea to me! I also agree with some other people about adding a color wheel, because I often have my hair dyed purple or pink, but it's usually a strange tint. I will also often have my hair in a ponytail, so like half of the part that hangs out is dyed, but any of the hairstyles with hair up do not give this option! There are a few other things, but those were the most important. Overall, I love the app! My mother saw me using Bitmoji and asked me to make one for her, but was frustrated when there was no baseball apparel. She is a Royals fan, but was sad since it's baseball season and there's no apparel for such. Not sure if the developers are anti-baseball but it would make my mum happy for there to be some! Thanks!
I had bitmoji for a while a couple years ago and deleted it. No one was really using it and it got boring for me. I decided to redownload the app when my friends on snapchat began using it. I find a lot of them to be hilarious, so I've had fun incorporating them into my everyday phone conversations.
That said, I have two issues with the app. One minor issue – why isn't there a search function in the app to find bitmojis? Scrolling through them is nice just to see what's randomly there, but when I'm texting and looking for something specific, it'd be nice to have the option to narrow it down more quickly. Which brings me to my second, bigger issue.
Someone reading this might say – you can do that with the keyboard… why aren't you using that? Well, when I went to integrate bitmoji with my text app, a notification popped up saying something along the lines of I would be giving permission for the app to access my texts, even past texts. That really bothered me. Why would the app need access to my past text messages? Like what purpose does that serve? So I declined, and I copy bitmojis straight from the app instead. Lengthier process, sure, but I really only use them with one person anyway.
So I'd like an in-app search feature if possible.
Get Bitmoji from App Store
What is your opinion about Bitmoji
Bitcoin
Ethereum
MetaMask (ETH)
Xrp
Polkadot
Binance coin
Stellar
Dogecoin
Tron
Elrond
Donate Bitcoin to this address
Scan the QR code or copy the address below into your wallet to send some Bitcoin
Donate Ethereum to this address
Scan the QR code or copy the address below into your wallet to send some Ethereum
Donate Xrp to this address
Scan the QR code or copy the address below into your wallet to send some Xrp
Donate Polkadot to this address
Scan the QR code or copy the address below into your wallet to send some Polkadot
Donate Binance coin to this address
Scan the QR code or copy the address below into your wallet to send some Binance coin
Donate Stellar to this address
Scan the QR code or copy the address below into your wallet to send some Stellar
Donate Dogecoin to this address
Scan the QR code or copy the address below into your wallet to send some Dogecoin
Donate Tron to this address
Scan the QR code or copy the address below into your wallet to send some Tron
Donate Elrond to this address
Scan the QR code or copy the address below into your wallet to send some Elrond