Beat Battle game by Jingmao Tec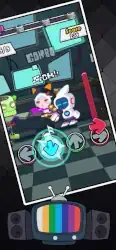 Game Description :
A new free music rhythm game.
How to play
1.Tap the note as it reaches scoring area.
2. According to the accuracy of tap you'll get a score.
3. Try to challenge harder songs.
Various types of songs and well-made Musical score is continuously update. Pop, Anime, Hip-hop, EDM, Vocaloid, and more genre of music are waiting for you.
Game Features :
1.Variou of songs, play anytime as you want.
2.Different difficulty makes more choice, choose the difficulty that you like the most!
3.Use high quality music source and musical score, make your game experience better.
4.Continuously update various songs.
Install right now and enjoy it!
Beat Battle – Full Mod Fight is a music game from Jingmao Tec. Contact us by App Store or email below. We're looking forward to your game feedback to improve our game!
Feedback
beatrun11e[at]gmail.com
The app follows standard Apple Terms of Use (EULA)
www.apple.com/legal/internet-services/itunes/dev/stdeula/
Additional Information :
Size 536.4 MB
Requires iOS 11.0 or later.
User reviews :
Love it! but…
This game is awesome! But i want all playing with only bf mods bc it helps me not get my fingers tired and die. I also want to make the long songs long like hellclown because its not that long or should i say its not the full song. The last thing to fix is just make it like the actual notes for the song because they just are easy like madness because you did not make hhe actual notes but then you did and its insane man i love it and its just gonna make me a better fnf player. I rate this a 4 because of the things that need to be fixed but im rating it a 5 so that other people can see my review. Also this is great for mobile players because they dont have fnf because they either dont have a pc or that they cant use it. I saw the reviews that this game is awful but its not for mobile players. This game is trying to copy fnf but im fine because i can finally play yhis game which is on mobile! The lastest thing to fix is the adds. There are like too many of them that wastes my gaming time and i need to edit nore if im making a video. Well my actual rating is a 3.5 but again im making it a 5 so other people can see it. The games great do far but they need to fix those things so that ppl actually like it more. Bye!
I rate a five but it has some problems
I love this game! It's great, it improves my finger strength (I've been able to win thumb war 51 times in a row!), has catchy beats, and it's free to play on mobile! But this amazing game has some issues. A. It has way too much ads. If I were a YouTuber editing out all those ads would take a billion years! 2. There aren't enough catchy songs that are easy. I've enjoyed a lot of the beep bop catchy tecno songs but most of the ones I like are expert or hard difficulty so I want more fun but easy songs. And 3. It isn't a complaint it's something i want to add to the game. You should add a part of the game where you are able to make a song. What I mean is you select two players or characters from another song to use the arrows and record or make a beat. And when your done making the beat you change the background and play. And if this feature comes out then you should make it so you can see and play other peoples beats, and once your done you'll get to rate it and you'll get diamonds for the amount of ratings your song gets. Sorry for making this so long but I just wanted a good review. Peace!!!
Hey!…no…How's it going?!
The game is very fun and addicting. I play nonstop almost everyday, 24/7 (I might've over exaggerating there a bit)! I do wish for the game to include playing with only one player because my fingers get very tired and it does leave a sting. Many mods do have them, but certain ones don't. Another thing is the lives while playing a mod. It does kill me when there 1 life for every mod (like literally kills me). I know some need some kind of skill or something like that to play, but I do wish for more lives on certain difficulties; I'd recommend Easy with 3-4 lives, 2-3 lives for Normal and/or Hard, and finally for Expert and Insane with 1-2 lives. This way, it'll get me and many more players to reach a specific checkpoint (of the three in each mod) without every mod being on one life. Now it might be that the app isn't working for me, but there is probably a small bug. When I open the app, it obviously shows the loading screen, then it freezes for about a second and starts loading again, but then closes the app (Again, not sure if it's my phone lagging or the app, probably due to low signal I receive). All I ask for is if you can add more lives to certain mods and/or difficulties? It would mean a lot and make the game much more awesome!
Get Beat Battle from App Store
What is your opinion about Beat Battle
Bitcoin
Ethereum
MetaMask (ETH)
Xrp
Polkadot
Binance coin
Stellar
Dogecoin
Tron
Elrond
Donate Bitcoin to this address
Scan the QR code or copy the address below into your wallet to send some Bitcoin
Donate Ethereum to this address
Scan the QR code or copy the address below into your wallet to send some Ethereum
Donate Xrp to this address
Scan the QR code or copy the address below into your wallet to send some Xrp
Donate Polkadot to this address
Scan the QR code or copy the address below into your wallet to send some Polkadot
Donate Binance coin to this address
Scan the QR code or copy the address below into your wallet to send some Binance coin
Donate Stellar to this address
Scan the QR code or copy the address below into your wallet to send some Stellar
Donate Dogecoin to this address
Scan the QR code or copy the address below into your wallet to send some Dogecoin
Donate Tron to this address
Scan the QR code or copy the address below into your wallet to send some Tron
Donate Elrond to this address
Scan the QR code or copy the address below into your wallet to send some Elrond