(App) Annotable – Annotation & Markup
 iphoneapps info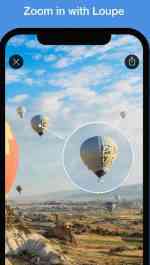 App Description :
Annotable is the most full-featured all-in-one image annotation tool.
Featured by Apple in many places:
Best of 2016
New Apps We Love
Best Apps to Edit Your Photos
Best Productivity Apps
Best Utilities
I've finally found the best all-in-one image annotation tool for iOS – Annotable for iPhone and iPad. —— Federico Viticci of MacStories
App Features :
All the expected common tools: rectangles, ovals, arrows, lines and texts.
Fully customizable: colors, sizes, outlines, fonts…
Stylishly obscure private information with Blur and Pixelation.
Or on the contrary, highlight something with Spotlights.
If you really want to focus on a particular spot use a Loupe.
You can even highlight text on screenshots of apps like Notes, Twitter, and Safari. It feels like magic, and can really save the day when you want to share a web page screenshot with some words highlighted but forgot to select the words when you took the screenshot.
Fully support Action Extension, Photo Editing Extension, Edits Sync via iCloud Photo Library, URL Schemes, 3D Touch, Wide Color…Annotable utilizes your powerful iOS system to the extreme.
Distinctions from many other similar Apps:
All the results are high-resolution images.
Not only screenshots but all images are supported.
Large images can be directly annotated and do not have to be cropped.
Additional Information :
Size 18.6 MB
Requires iOS 12.0 or later.
Compatible with iPhone, iPad, and iPod touch.
User Reviews :
Why didn't I start using this long ago?
I downloaded this a long time ago, but never got around to really trying it out – and now I see the error of my ways – Annotable is *awesome*! It combines the best features of Apple's Markup tool and Skitch (especially the outlined text, which can hugely improve readability on varied backgrounds), and gives you lots of additional tools (the one that recognizes text in images and nearly highlights it is kind of magical), and lots of knobs to tweak to fine tune edits. This is the only image annotation tool I'll ever need.

I'd like the ability to nudge items around a pixel at a time (with tony arrow keys), but the app already puts up a magnifier if you long press an item before moving it, which is almost as good.
I definitely prefer this to any other app like it.. even the Markup built in
I don't remember how I ran across this app, but I definitely prefer it to all other similar apps. It's far superior to the native Apple "markup" feature. I'm having some issues, but I'm going to email support and hopefully they will get it fixed. I've tried every app like this that I'm aware of and I would definitely recommend this 100%. There are so many more features than other apps, and with iOS 13, I'm able to access it more easily. I've had the app for several years, but haven't used it as much as I'd like because I couldn't access it directly from my photos. Now I can and I couldn't be happier!
love at first pixel obscuration

(UPDATE 2020) Still using this, INDISPENSABLE MUST HAVE!

THIS is THE app to use for your image annotation needs. Worth paying for every option. I can't tell you how nicely it's made informative images stand out so that they do their duty! I've used Annotable for editing images such as bug report screenshots, highlighting maps and directions, even to annotate screenshots of friends text messages to prove a point to them! With a UI layout that is easy to remember, and functions that are VITAL, this is the cake right here!

Thank you Awesome Developer for taking the time to reply to my review. I hope See you on the TestFlight flipside
Developer Response ,
I'm really glad you like Annotable. Yes, I'll consider making a macOS version. I just don't have enough time recently.
**UPDATED REVIEW: PERFECT!!
LOVE this app! I screencap things constantly, and it's my main way of taking any kind of notes, and this app has the perfect feature set. The paid version is completely worth the spend, selection of tools for markup and redaction is awesome! **Updating review after great response and engagement from developer regarding the one issue I'd been having with the app crashing, now seems fixed after last update. Developer support and follow up now have me 100 percent loyal to Annotable!
Developer Response ,
Sorry to hear that. I'd like to look into your issue. Can you use Settings > Email Feedback to contact me?
Get Annotable from App Store
What is your opinion about Annotable
Bitcoin
Ethereum
MetaMask (ETH)
Xrp
Polkadot
Binance coin
Stellar
Dogecoin
Tron
Elrond
Donate Bitcoin to this address
Scan the QR code or copy the address below into your wallet to send some Bitcoin
Donate Ethereum to this address
Scan the QR code or copy the address below into your wallet to send some Ethereum
Donate Xrp to this address
Scan the QR code or copy the address below into your wallet to send some Xrp
Donate Polkadot to this address
Scan the QR code or copy the address below into your wallet to send some Polkadot
Donate Binance coin to this address
Scan the QR code or copy the address below into your wallet to send some Binance coin
Donate Stellar to this address
Scan the QR code or copy the address below into your wallet to send some Stellar
Donate Dogecoin to this address
Scan the QR code or copy the address below into your wallet to send some Dogecoin
Donate Tron to this address
Scan the QR code or copy the address below into your wallet to send some Tron
Donate Elrond to this address
Scan the QR code or copy the address below into your wallet to send some Elrond