(Game) Alphabear
free games for iphone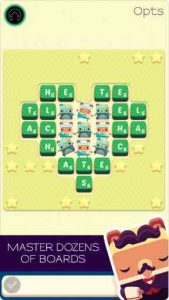 App Description :
Alphabear is an original word puzzle game by Spry Fox, the developer of the award winning game Triple Town.
App Features :
In Alphabear, you spell words by selecting letters on a grid. When you use letters that are next to each other, bears appear! The more letters you use in an area, the bigger the bear gets, and the more points you earn. Perform well enough, and you might just a win a bear of your own to keep forever.
Bears that you win can be used as powerups in future games! They increase the points you earn for using certain letters or spelling certain words, extend your timer, increase or decrease the frequency with which letters appear, and more!
Additional Information :
Compatible with iPhone, iPad, and iPod touch.

Requires iOS 7.1 or later.

Size 169.3 MB
User Reviews :
Form words to help grow adorable bears in this clever word game. Wait too many turns, and the letter tiles will turn to rocks—but with a little help from cute collectible animals (like Doggy Bear, who awards extra points for the letters "D," "O," and "G"), you'll be racking up high scores in no time.
I love this game because I love any sort of word/anagram style game. The bears are adorable and it's fun collecting them. But the coin/time ratio is so low that it takes around 1:30 hr to be able to play again. I don't want to play once every 2 hrs without spending money!Edit: ok so I received a nice response from skyfox so I thought I'd do a little update. I wrote "coin/time ratio" because I rushed this review and most games do coins but it is a honey/time ratio. And I know you can buy the infinite honey and buy all sorts of in-app purchases but I'm just not about that life which I understand is all on me and not the developer. That said though, a lot of other games have more reasonable in-app purchases so that's what I was trying to convey (sloppily might I add).Edit 2: so many edits to my review in so little time. So I changed my rating from 4 to 5 because I found out you can watch ads to get more honey and coins! Well actually I knew about it but it doesn't work on the iPad ([app crashes instead] – which I played it on first before I got it on my iPhone) so I initially didn't try using it with my phone. But I tried it last night and was pleasantly surprised that it worked so now I'm happy I get to play more often!

To clarify, this game has an energy mechanic (honey). Players regain 1 honey every 90 seconds whenever their honey is below 120. That's 960 honey per day if you play at optimal efficiency. Most events cost 50 or 70 honey, which comes out to quite a few games per day, but only 1-2 at a time. There is an Infinite Honey feature for purchase for folks who want to be free of the energy mechanic, but many folks choose to play without purchasing it and that's okay too.

I've been playing alpha bear for quite a while now, and it's the only game that has held my interest for this long. I find myself going back to it and can play for over an hour without getting bored.It's very clever, and the combination of untimed and timed boards makes it endlessly interesting. The way that the boards have different combinations of letters that expire at different times depending on the board keeps it challenging.It's also one of the few games where you can go back to an earlier level without any diminishing of enjoyment of the game. I'm now at a level where it's difficult to move up, but it's not as frustrating as some games where I reach a certain level and then quit because it's impossible to move up any further. Sometimes it's just fun to go backwards and use some of those low-level bears.I don't pay too much attention to the coins and the honey. I do occasionally watch the videos to get more coins, but I think the game is just as much fun without worrying about the in app purchases. The fact that you can get a blue reward and still advance, even if you don't completely conquer the board with a gold egg, is a smart choice by the developers. This gives the player satisfaction even if they haven't completely "won" the board. Good word games have their own built in satisfaction factor. Bravo, and keep up the improvements!
Get Alphabear from App Store
What is your opinion about Alphabear
Bitcoin
Ethereum
MetaMask (ETH)
Xrp
Polkadot
Binance coin
Stellar
Dogecoin
Tron
Elrond
Donate Bitcoin to this address
Scan the QR code or copy the address below into your wallet to send some Bitcoin
Donate Ethereum to this address
Scan the QR code or copy the address below into your wallet to send some Ethereum
Donate Xrp to this address
Scan the QR code or copy the address below into your wallet to send some Xrp
Donate Polkadot to this address
Scan the QR code or copy the address below into your wallet to send some Polkadot
Donate Binance coin to this address
Scan the QR code or copy the address below into your wallet to send some Binance coin
Donate Stellar to this address
Scan the QR code or copy the address below into your wallet to send some Stellar
Donate Dogecoin to this address
Scan the QR code or copy the address below into your wallet to send some Dogecoin
Donate Tron to this address
Scan the QR code or copy the address below into your wallet to send some Tron
Donate Elrond to this address
Scan the QR code or copy the address below into your wallet to send some Elrond