(Game) A Way To Slay – Bloody Fight
 iphone games for free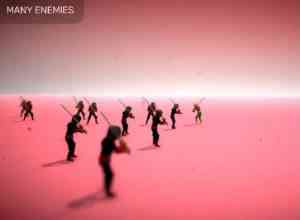 Game Description :
A Way To Slay is a bloody puzzle game in which you will need tactics and logical thinking.
You will face knights, samurai, mercenaries, pirates, orcs, assassins and even the modern mafia.
Think over the strategy of combat and pass hundreds of different levels in a variety of eras, from realistic to fantasy worlds.
Game Features :
1. Epochs.
Fight in medieval times with knights or plunge into the eastern theme with the samurai. Try to defeat all pirates and get to our days fighting with the mafia.
2. Many types of characters and weapons.
Katana, a medieval two-handed sword and even a scythe that chop grass and not just a small part of the arsenal.
Who are you? Wanderer, a samurai, a knight or a modern professional killer in this game – it's up to you!
3. Huge step-by-step battles.
At first you will meet with one or two enemies, but soon there will be several dozen. Think of tactics and find a way to defeat them all.
4. Diverse enemies
On your way you will face so diverse enemies, from ordinary soldiers, to powerful bosses.
5. Graphics and sound
Graphic, visual and sound effects allow you to immerse yourself completely in the gameplay.
Additional Information :
Size 239.5 MB
Requires iOS 8.0 or later.
Compatible with iPhone, iPad, and iPod touch.
User Reviews :
Problem with level 6-2
I like this game a lot. It's nothing I find myself binging on but a consistent "go to" game for a short time kill. I'm a stickler for getting 3 stars on every level before moving on but level 6-2 is a problem. I complete it and get 3 stars…but then when you look at the level menu, it only appears as one star. Redid it several times. Get 3….appears as 1. Not a huge problem as I know I achieved 3 stars but the problem is that that level has an unlockable that you can only obtain by getting 3 stars in all 15 stages which now you can't unlock because of a glitch. And…the game crashes now and again. Not enough to delete it but it needs some bug fixes for sure.
Pretty awesome
Really cool game and concept because I love puzzles and logic. But it really isn't as logical as I was hoping because it's not based off of real life physics where you can guess as judge. You have to really learn how the physics in the games work and how the creator thinks to come up with strategies because the physics of it is basically you can jump anywhere to any enemy and hit them but the other enemies move accordingly. And depending how close they are they can attack. So really cool concept but I wouldn't necessarily call it a logic puzzle because you have to learn how the game works first before you can really come up with a plan.
Great but deleting this game
I like the concept and graphics. Puzzles are good. The problem is the sizing of the battle field. I can't make it small enough to see all the fighters. Part of getting 3 stars on a map is finishing your opponent's in less than a certain amount of time. I have to move the screen around for nearly every hit for some maps. This is too clunky and not winning has nothing to do with the puzzle, it's the interface. I've reached my limit of things I want to do with this game. Delete.
One of the best games I've ever played
This is to good to be free I'm not saying make it priced I'm just saying the devs mad a marvel of a game the levels just keep getting better I meet like this game is probably the best game on mobile guys you should support the devs leave them a five stars download and you'll see what I meen this game has more potential than I've ever seen good job devs
Stuck despite getting 3 stars
This is an amazing game, however I am stuck at a level in the orcs section. Despite getting 3 stars in the second level, it only registers as one star (tried the level 3 more times, getting the full 3 stars) yet when I go back to the level there is only one star. Thus, I am unable to advance to the next theme as you need 3 stars in all levels to advance.
Get A Way To Slay from App Store
What is your opinion about A Way To Slay
Get more free apps & games daily
Subscribe to our mailing list and get free apps & games daily to your email inbox.
Thank you for subscribing.
Something went wrong.
Bitcoin
Ethereum
MetaMask
Xrp
Polkadot
Binance coin
Stellar
Dogecoin
Tron
Elrond
Donate Bitcoin to this address
Scan the QR code or copy the address below into your wallet to send some Bitcoin
Donate Ethereum to this address
Scan the QR code or copy the address below into your wallet to send some Ethereum
Donate Xrp to this address
Scan the QR code or copy the address below into your wallet to send some Xrp
Donate Polkadot to this address
Scan the QR code or copy the address below into your wallet to send some Polkadot
Donate Binance coin to this address
Scan the QR code or copy the address below into your wallet to send some Binance coin
Donate Stellar to this address
Scan the QR code or copy the address below into your wallet to send some Stellar
Donate Dogecoin to this address
Scan the QR code or copy the address below into your wallet to send some Dogecoin
Donate Tron to this address
Scan the QR code or copy the address below into your wallet to send some Tron
Donate Elrond to this address
Scan the QR code or copy the address below into your wallet to send some Elrond