(App) WebMD – Check Your Symptoms
 iphone apps info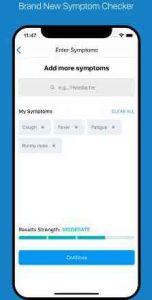 App Description :
Coronavirus / COVID-19 Outbreak: Tap the card on our home screen for the latest updates on the 2020 coronavirus outbreak.
From WebMD, the one healthcare app you need to check symptoms; learn about conditions and drugs; research treatments and diagnoses; find doctors and specialists in your area; save on prescriptions at your local pharmacy; and set medication reminders.
App Features :
Symptom Checker – Choose your symptoms, learn about potential conditions or issues, and lookup treatment and care options.
Medication Reminders – Never miss a dose. You'll receive reminders when it's time to take your medications. View daily prescription schedules and instructions, plus pill images with dosage and timing information for each drug. Reminders sync to your other mobile devices when you sign-in with your WebMD account.
WebMD Rx – We partner with major pharmacy chains to find the lowest prescription drug prices, which often beat insurance co-pays. It's 100% free to use. No registration required.
Doctor Directory – Find the closest doctors and specialists based on your current location or search by city, state or zip.
Conditions – Find medically-reviewed information about conditions relevant to you and learn more about causes, treatments, and related symptoms.
Customization and Saving Functionality – Save your conditions, drugs, doctors, hospitals, pharmacies, and healthy living articles for secure, easy access and reference.
Drug Interaction Checker – Find and identify potentially harmful and unsafe combinations of prescription medications by entering two or more drugs in question.
If you are a California resident, California law may provide you with certain rights regarding our use of your personal information. For more information relevant to our users who are California residents, please review the "California Residents" section of our Privacy Policy linked on this download page or within our app.
ABOUT WebMD
WebMD Health Corp. (Nasdaq: WBMD) is the leading provider of health information services, serving consumers, physicians, healthcare professionals, employers, and health plans through our public and private online portals, mobile platforms and health-focused publications. More than 95 million unique visitors access the WebMD Health Network each month.
The WebMD Health Network includes WebMD Health, Medscape, MedicineNet, emedicineHealth, RxList, theheart.org, drugs.com and Medscape Education.
SOURCE WebMD Health Corp.
WebMD. Better Information. Better Health.
WebMD does not provide medical advice, diagnosis or treatment. Always seek the advice of your physician or other qualified health provider with any questions you may have regarding a medical condition. Never disregard professional medical advice or delay in seeking it because of something you have read on the WebMD mobile application.
Prescription savings vary by prescription and by pharmacy, and may reach up to 80% off cash price.
Additional Information :
Compatible with iPhone, iPad, and iPod touch.
Requires iOS 10.0 or later.
Size 139 MB
User Reviews :
Thanks to a recent update, this app is much more accessible for those of us who use VoiceOver. Now that I can use it, I find it terrific!!As an update to this review done months later, I find one issue. If I do a search in Conditions, I have to completely close and reopen the app, as no Back button appears. Otherwise, it is terrific! Yet another update to my initial review. I still have to close the app to get out of a major category, such as Conditions or Search. Now, in addition, if I am in Conditions, the A-Z list will not come up at all, even though it says it's displaying. This means I can only access the Popular Searches. I'm out of luck if I need to look up something rare. I hope these will be fixed soon. Further update: Despite more updates to the app, all of the annoying bugs already mentioned are still there. I still have to close the app in order to go to another section (e.g., from Conditions to Drugs). I still can't bring up the A-Z list of Conditions, or the A-Z list of Drugs; it's only the Most Popular for both. No scrolling to a rare condition, or to a drug that isn't on the top 94. May not be deliberate discrimination, but is frustrating nonetheless. Please fix!
I've been using the website since 2000 and have always been satisfied with the information I found. No everyone is fortunate enough to know about this app or the website which is a shame. If they could look up their symptoms and get a general idea about what is wrong with them and if they should go to the doctor or not, maybe that would keep people from making unnecessary appointments and keeping doctors from seeing patients who really need to be seen! Thanks for the app, it rules!!
Get WebMD from App Store
What is your opinion about WebMD
Get more free apps & games daily
Subscribe to our mailing list and get free apps & games daily to your email inbox.
Thank you for subscribing.
Something went wrong.