(Game) Tinker Island – Survival Story
 iphone games for free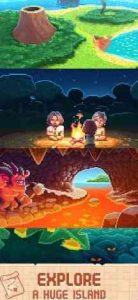 Game Description :
You're cast away on a TROPICAL ISLAND. Become the leader of SURVIVORS in this lost PARADISE. Take them on an ADVENTURE of a lifetime – build a base, explore mysteries or forage treasures. Learn the art of crafting, foraging and exploring but keep in mind, there is never an idle moment in the everyday lives of the survivors.
FIGHT vicious enemies, tame savage beasts, kindle romance and solve RIDDLES. When the island SPEAKS to you, will you answer?
Game Features :
Lead a band of survivors using simple swipes
Choose your own adventure
Explore a huge lush world
Experience a talking island
Fight many dangers that lurk behind every bush
Forage resources to survive
Build a base and upgrade structures
Play a unique match and stack minigame
Craft weapons and tools
Discover a gripping storyline
Uncover the terrible secret of Tinker Island
WARNING! No wifi on the island. You're on your own!
Three survivors find themselves shipwrecked and lost, not by choice, on what is believed to be a deserted tropical island. As they start exploring and discovering the island, they discover great treasures, resources and items that they need to gather, craft or harvest to protect themselves against the unfamiliar environment and the dangerous episodes awaiting them.
As you progress and craft the needed tools, you slowly uncover the map and the treasures of the island. There is plenty of wit and humor in the narrative, where you have to make the correct choices to progress through the story.
If you enjoy adventure or survival games, this is definitely a game worth giving a go. It's a real treasure.
WARNING! No wifi on the island. You're on your own!
Join the Tinker Island community and help each other out:
Follow Tinker Island adventure game on the official forum: www.kongregate.com/forums/34216-tinker-island-mobile
Follow Tinker Island survival game on Facebook: www.facebook.com/tinkerisland/
Join the Tinker Island choice game Facebook group: www.facebook.com/groups/tinkerisland/
Follow the Tinker Island text game on Reddit: www.reddit.com/r/TinkerIsland/
Follow the Tinker Island updates and new episodes on Twitter: twitter.com/tinkerislandtm
PLEASE NOTE! Tinker Island is free to play, however, some additional items can be purchased for real money or through special offers. If you don't wish to use this feature, please adjust your device's settings. By installing this game you agree to Terms of Service published here: www.trickytribe.com/terms-of-use/
Additional Information :
Compatible with iPhone, iPad, and iPod touch.
Requires iOS 9.0 or later.
Size 339.2 MB
User Reviews :
I just updated the game and got to the chamber where you do the water puzzle. The answers and pictures are wrong. For the first one it should be 7 but it is 3. The second part of the puzzle has the exact same picture but the answer is 4. The picture of the last part is the same as part 1 and 2, but has a tube connecting the two sections. Despite all this, the answer should still be 7, but it is 5 somehow. I know it's not game breaking, but it was annoying spending a lot of coral on something that I should be right according to the information given. Overall I love this game and can't wait for more event islands and part 2.Edit: So I finished the Temple and got Seraph and got to the part where you collect coral everyday to get gems. I just started to work on getting the bee box and then a pop up appeared saying that I unlocked the pier. I checked the map and sure enough I did. I still have Seraph but I can't collect coral for gems. I tried to explore it but nothing happened when it finished. Edit 2: Now I can get coral but I can't use it. The pier is still there and doesn't work and I can't click on the vegetation to get rid of it for gems.
This game is quite enjoyable and I don't deny spending hours on it. However, it has quickly become apparent the discrepancy in non payable play and in app purchases. For example, you can continue to explore a part of the map in hopes of getting that diamond resource or pay 90 gems for it. I've explored that part 10 times and still haven't gotten it. I understand the developers wanting to make a profit, but the necessary amount of gems needed jumps extremely high and quickly. Same goes for the amount of resources needed to upgrade parts of the camp. The garden game feels, at times, extremely chance related rather than strategical. I've played one level 20 times to finally progress because the game just would not give me that needed water, seed, or sun. When it gets to fighting the monsters, the first one costed resources, the second is automatically gems. As someone who avoids in app purchases to progress, this game is stretching my ingenuity to the max. I do like that they implement a chance to earn gems, but it's like collecting water droplets to get a full glass. I'll still play, as it is a fun game and the design is wonderful, but as more and more progression costs gems, I'll probably stop playing in time.
Get Tinker Island from App Store
What is your opinion about Tinker Island
Get more free apps & games daily
Subscribe to our mailing list and get free apps & games daily to your email inbox.
Thank you for subscribing.
Something went wrong.