(App) SleepIQ
free apps for iphone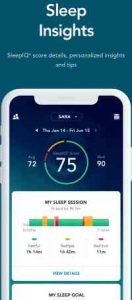 App Description :
Experience SleepIQ® technology.
Only Available with Sleep Number® beds.
WHAT'S NEW
SleepIQ® continues to give you personalized insights for a rich sleep experience with your Sleep Number® bed. It also will give you important details on the quality of your sleep and help you improve your SleepIQ® score. Update to the latest SleepIQ® technology to get the latest enhancements.
App Features :
SleepIQ® technology helps you get your best sleep and it can only be found at Sleep Number®. SleepIQ® uses intelligent biometrics to provide a daily score based upon your personal goals and sleep patterns. Our industry leading SleepIQ® technology platform is what enables us to know that our beds deliver proven quality sleep to our Sleep Number® owners. See the amazing effects your Sleep Number® bed is having on your sleep quality, and overall health and wellness, through your SleepIQ® app.
My Biometrics: record your daily breathing and heartrate and now see your trends and how this contributes to your quality sleep
My Sleep History: learn how you are sleeping over time and assess your sleep quality
Household Compare: check how your entire family is improving the quality of their sleep
Track Activities: easily see how your actions during the day impact your sleep quality
Sleep Tips: learn how exercise, diet and stress impact the quality of your sleep and how your Sleep Number® bed can help give you better sleep
Benefits of InnerCircleSM: easily connect to insider benefits and unlock owner rewards
Sleep:
View your SleepIQ® score, learn more about the quality of your sleep, and get personalized insights and tips to help get your best sleep. As you sleep, biometric sensors inside your bed constantly measure your sleep biometrics – heart rate, breathing and movement. Every morning, you will see the amazing effects your bed is having on your sleep quality via your SleepIQ® score. This includes your biometrics (breathing rate, heart rate) and sleep times at a glance. Personalized insights let you track how activities and inputs (like coffee or exercise) affect your sleep.
Bed:
Control your bed including your Sleep Number® setting, Responsive Air® technology (Sleep Number® 360 smart beds only) and FlexFit™ adjustable base to insure you're getting the best quality sleep; and easily set your bedtime routine. SleepIQ® makes setting up and controlling your Sleep Number® bed simple – no remote necessary. Use the guided experience to find your Sleep Number® setting. Choose a position preset for your FlexFit™ adjustable base or use the up/down arrows to make adjustments. Adjust routines for different nights of the week.
Profile:
Personalize your experience by completing your wellness profile, access your account settings, connect with InnerCircleSM rewards, and connect to your health and wellness apps You will be empowered with customizable settings to get your best sleep. Set up your wellness profile and make changes whenever you choose to your account settings. Enter your sleep goals and personal data to get custom insights and hit your SleepIQ® score goals. Easily connect with InnerCircle to gain benefits and rewards.
If you choose, SleepIQ® will connect with the following health and wellness apps:
Apple Health
Fitbit
MapMyRun
360 Bed Owner Features
With a Sleep Number® 360 smart bed, take advantage of these features for effortless sleep.
Responsive Air® technology senses your movements and automatically adjusts to keep you both at your ideal comfort, your Sleep Number ® setting
Adjust the intensity of Underbed Lighting to low / medium / high (360 FlexFit™ 1/2/3 adjustable base only)
Set a timer to use Foot Warming from within SleepIQ® (360 FlexFit™ 3 adjustable base only)
Know. Better. Sleep.
Additional Information :
Compatible with iPhone, iPad, and iPod touch.
Requires iOS 11.0 or later.
Size 138.2 MB
Get SleepIQ from App Store
What is your opinion about SleepIQ
Get more free apps & games daily
Subscribe to our mailing list and get free apps & games daily to your email inbox.
Thank you for subscribing.
Something went wrong.