(App) Simply Yoga
iphone apps info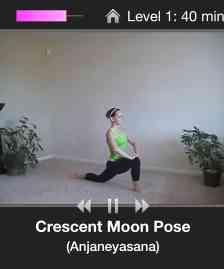 App Description :
Your own personal yoga instructor wherever you are!
App Features :
Level one 20, 40 and 60 minute workouts
Great for both men and women
Video demonstrates how to get into each pose
Audio instructions for entire routine
30+ poses
3 predefined routines
Integrates with Health app (calories burned data will push to Health app at end of workout if calorie calculation app setting is turned on)
>>> Featured in WIRED magazine!!!
Simply Yoga FREE is your own personal yoga instructor. The app contains a 20, 40 and 60 minute yoga routine that step you through each pose. Each pose is demonstrated by a certified personal trainer, so simply choose your workout length and follow along in the comfort of your own home!
If you like Simply Yoga FREE, check out the full version which features:
A second set of workouts (Level 2)
Create custom routines from all poses
Landscape mode
Ad-free
Want more workouts? Also check out the "DAILY WORKOUTS" full version app for multiple workouts including ab, arm, butt, cardio, leg and full-body routines. Daily Workouts now also has Pilates, stretch, kettlebell and ball workouts and more!
Additional Information :
Compatible with iPhone, iPad, and iPod touch. Apple TV.
Requires iOS 10.0 or later.
Size 112.9 MB
User Reviews :
Love this app. I have old fractured vertebra and nerve injuries and always thought yoga would help. The classes I took (even beginner level) I always pushed too hard and they assumed some level of toga knowledge.Love this app because once you get the routine down you don't need to look at the screen and can just concentrate on the yoga itself. You can start slow with beginner, intermediate, or expert levels) and for a short period (20, 30, or 40 min workouts).I've been doing it 6x/week for about 2 weeks and can already see a difference in my physical ability to do certain things. My core strength has improved which lessens the pain in my back. Great app and can't wait to improve into the different levels!!
As a newbie starting out, this is great. It goes into detail how to transition into the positions, and reminds you to breathe as you move. I also appreciate that it goes slow, so I have time to focus and properly get into the poses. I did this diligently for months every day in preparation for my wedding, and I was toned and felt great on the big day! Three years later I still use this app in my work out routine. It is low impact (good on my bum knees and hips) while working to tone and stretch all your muscles.
I hated all the other apps I found because I had to literally watch every move. This one I can turn volume up and set it down and do the moves. It verbally tells you step by step what to do. Thank you so much. Gonna purchase the full version
Get Simply Yoga from App Store
What is your opinion about Simply Yoga
Get more free apps & games daily
Subscribe to our mailing list and get free apps & games daily to your email inbox.
Thank you for subscribing.
Something went wrong.