(App) Shopwell – Better Food Choices
iphone apps for free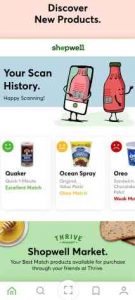 App Description :
Know your Food.
The free Shopwell app simplifies nutrition labels and helps you discover new foods that fit your lifestyle.
Shopwell provides personalized nutrition scores when you create a Food Profile with your dietary goals, health concerns, allergies and dislikes. Simply scan any item to see quick nutritional information and learn how it matches with your needs — not an average. Discover products that are a better match for you. Create lists of your favorite finds and share them with family and friends. It's that easy.
Shopwell personalized results are a free, easy and fun way to discover the foods that are right for you.
App Features :
Barcode scanner translates nutritionals into quick, easy-to-digest information on more than 400,000 foods
Personalized food recommendations.
Location awareness to find products in your local grocery store.
NEW! Create lists of your favorite foods and share them with your friends and family. Follow lists made by your friends and celebrity influencers
We help you stay on track by offering alerts and support for food allergies and food goals including:
Pregnancy
Gluten Free
Low FODMAP
Anemia
High cholesterol
Prediabetes
Type 1 Diabetes/Type 2 Diabetes
Allergy alerts for:
Gluten
Peanuts
Soy
Sesame
Eggs
Wheat
Tree Nuts
Corn
Sulfites
Milk
Lactose
Monosaccharides
Disaccharides
Oligosaccharides
Polyols
Shellfish
Join over 2.5 Million shoppers that recommend Shopwell for real-time food information and discovery.
Additional Information :
Compatible with iPhone, iPad, and iPod touch.
Requires iOS 11.2 or later.
Size 171.4 MB
User Reviews :
I love this app! It has really opened my eyes to see what foods I was feeding my family. It is so easy (and fun) to adjust your personal/family diet settings, and then search for products that match what you are looking for. When you open the app, it automatically shows several products that are good matches for you. I'm not adding a picture for my profile because I love the default crying onion I really liked the original version of the app, too, but I am really pleased with this newly renovated version.
I don't write reviews often but this app is a game changer! It is changing my life while possibly saving my life or at the very least my health! I have developed allergies later in life and having successfully raised a child with food allergies I thought I knew what I was in for but my allergies are so different and so much more complex that I knew I needed help. This is the best app I have found for people suffering from food allergies. It is capable of alerting you to allergens not listed on the label which is where I was finding myself in trouble. Thank you so much for this life saving app!!!!
I've been meaning to learn to build a better relationship with what i eat daily. My schedule doesn't really allow me to cook, so my focus moved onto what kind of food/product I consume. I was struggling with my new goal, but discovering Shopwell changed my game. Shopwell makes it super easy for me to know which product I can trust and consume, knowing that it is good for me. I'd love to know more about how my score is calculated, but so far so good, have been loving their recommendations and been feeling good with how my body feels.
Get Shopwell from App Store
What is your opinion about Shopwell
Get more free apps & games daily
Subscribe to our mailing list and get free apps & games daily to your email inbox.
Thank you for subscribing.
Something went wrong.