(App) Seconds Interval Timer HIIT
free apps for iphone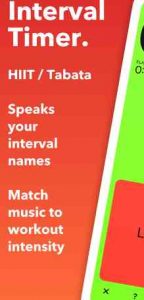 App Description :
Seconds is widely recognised as the best interval timer for HIIT & Tabata training for mobile devices. As well as being featured by Apple, it is recommended by celebrity and personal trainers to their clients all around the globe.
BEFORE YOU DOWNLOAD:
Non-paying users may create as many timers as they wish, but once an interval timer is started it may not be used again. Upgrading to the full version removes this restriction.
App Features :
Large, full screen, color coded display that is easy to read from a distance. The display works in either landscape or portrait.
Templates for HIIT, Tabata and circuit training. A custom template to create every interval. And the compound editor where you can combine many interval timers into one.
Speaks your interval names so that you can follow a workout without seeing the screen at all. Seconds can even provide prior warning of the upcoming interval. Other alerts including beeps and bells are available.
Coordinate your music with your Tabata workout. Each interval can have its own music assigned allowing you to match the intensity of your music to the intensity of your HIIT workout.
Seconds runs in the background allowing you to either have your display off, or use other apps while the HIIT timer is active.
Export and import. Share the Tabata timers with friends or download them from the web and install them in Seconds.
ADDITIONAL FEATURES:
Stopwatch that works in landscape and portrait, highlights best and worst lap times and syncs with Apple Watch.
A quick access countdown timer with 5 preset durations (only first 3 on Apple Watch). Upgraded users may configure their own preset durations. Countdown syncs with Apple Watch.
Additional Information :
Compatible with iPhone, iPad, and iPod touch.
Requires iOS 11.0 and watchOS 4.3 or later.
Size 46.7 MB
User Reviews :
For apple users: if you want to be able to share the app with family, do this: don't upgrade the app in response to the ads. You won't be able to do family sharing if you upgrade because apple sharing is not available for "in-app purchases". Instead, purchase the Seconds Pro interval timer from the App Store. That way, the app can be shared with your family.This is a great app, as many others have described in great detail in prior reviews. I won't repeat the great features here, read the other reviews. I do a variety of circuit training and HIIT workouts and enjoy making up my own routines. The timer has helped me keep on time, which made my workouts more intense and efficient. I am very happy with this app and would buy it again. As it turns out I will buy it again since I can't family share the upgrade. My daughter and husband both want the timer.
This is an excellent app for anyone who does high intensity interval training during their workouts. Almost every aspect of a timer is customizable. Definitely worth the price to buy a pro license. My only two gripes are that timer beeps can't be selected separately for each part of a timer. You can only set a beep pattern for the timer as a whole. That makes it impossible to know what part of a routine you're on without looking at the phone, which can be distracting. Also, the option to disable music volume "ducking" within the timer settings doesn't work. The volume goes down with every beep pattern except the single long beep, even when it's switched off. Hopefully the devs will fix that soon, but until then, you can achieve the same result by going into the app settings menu and changing the ducking volume slider to full. A wider selection of beep styles would be a plus, but the existing choices get the job done. If none of those issues seem important to you, then chances are, you'll love this app.
I have been using this app for over a year. I started with the free version to be able to set up run walk intervals that my running partners could hear. The free version was fine for a simple interval that I didn't mind setting up each time.I now use the paid version for more interval strength workouts. In the training plan I am using, each week we have a new short strength workout with 4 exercises that I need to do for a minute each. I can program these in using the voice prompt to remind me of what is coming up next. Now that I am going through the plan for a second time, I even have all of these workouts already set up and ready to go. I even set up a prompt at the beginning and end reminding me to start and stop my Garmin recording! It even works when I am listening to podcasts or music while doing the workout. It has been well worth the small investment!
Get Seconds Interval Timer from App Store
What is your opinion about Seconds Interval Timer
Get more free apps & games daily
Subscribe to our mailing list and get free apps & games daily to your email inbox.
Thank you for subscribing.
Something went wrong.