(App) Rosetta Stone – Learn Languages
 iphone apps info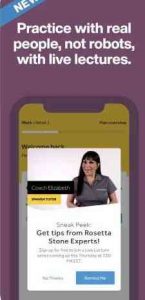 App Description :
Real people, not robots
Linguists craft our lessons. Coaches bring them to life.
NEW | Live Lectures: New coaches, topics and times every week. Offered in all languages; Free to all users.
NEW | Coaching On-Demand: Take conversation practice on-location to Mexico with interactive videos you can watch anytime, anywhere. Offered in our most popular languages; Free to all users.
App Features :
EXPANDED DESCRIPTION
Rosetta Stone has taught millions of people new languages, and you're next. From day one, you'll:
Stay focused with a personalized learning plan based on your motivation.
Learn intuitively using our proven immersion method.
Perfect your pronunciation with instantaneous feedback.
Download lessons to do everything offline.
Access different kinds of exercises with our Extended Learning features.
Sync progress across all your devices.
And never see an ad, ever.
RECENT AWARDS
2019 PCMag Editors' Choice
2019 Tabby Awards Winner
2019 Best Mobile App Awards: Best Designed App and Best Overall App
For the first time, we're offering every one of our languages under one subscription. Flip between languages as often as you'd like and enjoy the freedom to get seriously curious. To access, simply select Unlimited Languages when you subscribe.
Choose from 24 languages:
Arabic, Chinese (Mandarin), Dutch, English (American or British), Filipino (Tagalog), French, German, Greek, Hebrew, Hindi, Irish, Italian, Japanese, Korean, Persian (Farsi), Polish, Portuguese (Brazil), Russian, Spanish (Latin American or Spain), Swedish, Turkish, or Vietnamese.
Select a subscription:
We offer 3 and 12-month subscriptions—as well as a Lifetime option.
Subscription Details:
Get full access to all lessons, stories, and audio companion when you subscribe to Rosetta Stone.
Payment will be charged to your Apple ID.
Your account will be auto-renewed 24 hours prior to the end of the current period.
Manage or cancel your subscription from your App Store User Settings at any time after purchasing. Payment will be taken until the end of the current period.
Any unused portion of a free trial period, if offered, will be forfeited when the user purchases a subscription to that publication, where applicable.
Enterprise and Education Learners
Unlimited use of Rosetta Stone's mobile app is available for existing Enterprise and Education Learners.
Features may vary for Enterprise and Education Learners.
For questions or assistance, please visit support.rosettastone.com
Additional Information :
Compatible with iPhone, iPad, and iPod touch.
Requires iOS 12.0 and watchOS 5.1 or later.
Size 311.9 MB
User Reviews :
I wanted to wait several months before writing a review. I have now been studying Hebrew for six months with Rosetta Stone. I bought the year-long program, and I am on track for a one-year completion. I think you get a lot out of it if you put a lot into it. I study every day. The program is amazing! I had tried another program that was teaching me to transliterate into English first. It was slow and I wasn't learning much because my eyes always went to the English transliteration rather than the Hebrew letters. I also tried a sample lesson with another company that used only audio as the "best way" to learn a language. I realized I am a visual learner, so just listening to audio did not work for me. But now with Rosetta Stone, I am reading the words in the Hebrew alphabet and understanding what I am reading. I awake in the middle of the night with Hebrew words and phrases running through my mind. The pictures are enjoyable, and help me to understand words and phrases. My vocabulary is amazing! I think my pronunciation is getting better and better as well. It is such a natural and fun way of learning. Right now, I am studying the past tense, and I thought it would be difficult, but I am understanding it just fine. When I get through with Hebrew, I may learn another language through Rosetta Stone just for fun!
I found my way to this app after I had done some Duolingo.I am learning french and if anyone is learning french they also know how particular it can be. When I got to a certain point on Duolingo they made it difficult for me because all they want you to do is translate things into your own language. While I understand their point, it didn't work for me and maybe Duolingo is good for a language that you just want to brush up on. Once I got Rosetta Stone though I made more progress and I continue to…I am also close to a native french speaker so that's kind of an unfair advantage but with Rosetta Stone's immersion technique you don't see any of your first language in the lessons (other than things like pause and the names of the units and lessons of course) and that helps me stay focused and learn in the best way possible. I do plan on reading books in French after and finish a workbook (as I would recommend anyone do) because (at the moment) with my version of Rosetta Stone I don't ever get to type out sentences as a mean of practicing grammar. Hopefully I will be able to come back and write a review in French
Get Rosetta Stone from App Store
What is your opinion about Rosetta Stone
Get more free apps & games daily
Subscribe to our mailing list and get free apps & games daily to your email inbox.
Thank you for subscribing.
Something went wrong.