(App) Relax Melodies – Sleep Sounds
iphone apps info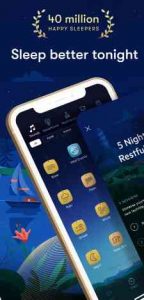 App Description :
Appreciate a large variety of Nature Sounds, White Noise, Brainwaves, Guided Meditations, Bedtime Stories, Body-Mind Exercises and Breathing Techniques that you can mix and combine to create your very own Bedtime Experience. We collaborate with Sleep Experts to make sure that our content and techniques will help you overcome Insomnia, Tinnitus, Night-Time Anxiety and lower your everyday Stress.
You'll fall back in love with your nighttime by joining our community of 40 million happy sleepers we help calm, sleep, and relax every night. Sweet dreams!
App Features :
Large sound library (white noises, brainwaves, nature sounds, beats, music…)
Guided Meditation Programs & Sleep meditations
Sleep Moves with or without your pillow
Breathing techniques
Bedtime Stories
Healing music
And more!
People love Relax Melodies:
The most positively reviewed app in the history of the Apple App Store — Business Insider
Voted best Health and Fitness app — MUX 2018
It's like a GPS directing you how to fall asleep — The Guardian
Sleep Sounds, Brainwaves, & White Noises
Explore our selection of over 100 soothing sounds, music, beats, and tones designed specially by our in-house experts to lull you to sleep. Mix them together to create your very own soundscapes:
Library includes :
Nature sounds: wind, rustling leaves, birds, crackling fire
White noise: hairdryer, airplane, dryer, vacuum, fan noise
Water sounds: rainstorm, ocean, slow waves, lapping water
ASMR Sleep inducing sounds: boiling water, vinyl crackle, bedsheets
Meditation music: voices, instruments, ambient melodies
Isochronic Brainwaves: 2.5Hz, 4Hz, 5Hz, 8Hz, 10Hz, 20Hz
Binaural Beats: 2.5Hz, 4Hz, 5Hz, 8Hz, 10Hz, 20Hz…
Guided Meditation Programs & Sleep Meditations
Add a sleep meditation to your soundscape to quiet your mind and guide you to a deep slumber. Choose over 100 meditations created especially to help you relax and drift to sleep.
Programs & Themes included :
Restful sleep
Stress and Anxiety relief
Tinnitus relief
Gratitude
Better sleep
Deep sleep
Stress and Anxiety relief
Napping
Dreams
Bedtime Stories
Fairytales, fables and short stories to lull you into blissful sleep.
SleepMoves: Move. Breathe. Sleep
Experience our SleepMoves, a series of body-mind exercises and relaxation techniques developed in collaboration with sleep professionals. Let yourself be guided through gentle movements easing you into a deep sleep.
Mini: to help you unwind quickly
Together: Enjoy unwinding as a couple with this relaxation routine
Travel: Overcome jet-lag and homesickness
Cooldown: Drain excess energy
Harmony: Find your balance and recenter yourself
Nurture: Take a moment for self-love
Release: Free yourself of stress and tension
Breathing Techniques: Sound Breathing for Day and Night
Achieve specific goals such as reducing your anxiety or clearing your mind with our Sound Breathings. Blending breathing exercises with soothing sounds, they will melt your worries away!
Topics included :
Take a Break
De-Stress
Clear your mind
Fall asleep
Healing Music
Binaural beat music promoting wellbeing through various frequencies.
Included :
Emotional release (528Hz)
Positive vibrations (432Hz)
Anxiety healer (396Hz)
Anger soother (852Hz)
Mood Balance (639Hz)
Also featuring:
Bedtime reminder: Set one every night to get more restful sleep
Timer: Stop the application after a set amount of time
Favorites: A section to add your favorite mixes
And more!
…
Brought to you by Ipnos
Ipnos gives you the best in the world of wellness apps.
Need help with the app? E-mail support[at]ipnos.com
Additional Information :
Get Relax Melodies from App Store
What is your opinion about Relax Melodies
Get more free apps & games daily
Subscribe to our mailing list and get free apps & games daily to your email inbox.
Thank you for subscribing.
Something went wrong.