(App) Rain Rain Sleep Sounds
free apps for iphone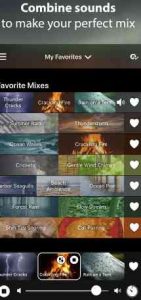 App Description :
Trouble sleeping? Rain Rain® helps you fall asleep fast! Let over 100 high-quality endless sounds lull you to sleep in no time, with more sounds added all the time. Mix and match any combination of sounds and save your favorite combinations. Download the app that over six million people have used to fall asleep today!
Here are the top sounds being listened to this week:
Rain Rain Original, Thunderstorm, Rain on a Tent, Rain Rain 3D, Ocean Waves, Summer Rain, Forest Rain, City Rain, Thunder Cracks, Rain Downpour, Crackling Fire, Slow Stream, Desert Wind, Blizzard Wind, Pink Noise, Airliner, Car in the Rain, Windy Storm, Rain Dripping, Gentle Stream, Cat Purring and Shih Tzu Snoring.
App Features :
35+ HD sounds
No limit on playback time
Every fade-out timer option
Mixer
Oscillator
Soften
No audio or video ads; there is a small image banner ad at the bottom
Use for as long as you like; Rain Rain is not a trial!
Full support for background audio, AirPlay, and Bluetooth devices
Subscribing to Rain Rain Premium gives you 65+ additional sounds as well as an ad-free experience. Rain Rain Premium includes a free 7-day trial, and does not start unless you explicitly select it within the application and confirm with your Apple ID, Touch ID or Face ID, so you don't have to worry about being charged without your knowledge.
MIXER: Combine sounds control the volume of each. Want to hear a campfire in the rain? How about a washing machine and a dryer? It's all possible with the Mixer. Save your favorite sound combinations. Your custom mixes are synchronized between all of your iOS devices with iCloud.
FADE-OUT TIMER: Set Rain Rain to gently fade out and then turn off after a specified duration so that you can get to sleep without leaving your phone or tablet on all night. The Fade-out Timer learns your preferences and automatically starts the next time you use Rain Rain.
BEDTIME REMINDER: The first step to a better night's sleep is a healthy sleep schedule. Get to bed on-time with Rain Rain's Bedtime Reminder by setting the time and days you want a reminder. Rain Rain sends you a gentle, encouraging message when it is time to go to bed so that you can get the rest you deserve.
OSCILLATOR: Customize your experience with the Oscillator, which slowly fades a sound in and out, allowing you to create dynamic, varying soundscapes in concert with the Mixer. You can even adjust how fast the Oscillator changes the volume. When you save a Mix to your Favorites, your Oscillator settings are saved as well, allowing you to save and recall any number of custom soundscapes.
SOFTEN: Adjust the tone of each sound to suit your needs with Soften, which reduces the high frequencies of any sound by an amount you choose. Your chosen levels for Soften are stored when you save a Mix to your Favorites to help you create the perfect scenes.
Terms of Use: www.rainrainapp.com/tou
Privacy Policy: www.rainrainapp.com/privacy
Download Rain Rain today and get a better night's sleep tonight!
Additional Information :
Requires iOS 10.0 or later.
Compatible with iPhone, iPad, and iPod touch. Apple TV.
Size 128.4 MB
Get Rain Rain Sleep Sounds from App Store
What is your opinion about Rain Rain Sleep Sounds
Get more free apps & games daily
Subscribe to our mailing list and get free apps & games daily to your email inbox.
Thank you for subscribing.
Something went wrong.