(App) Pixlr – Photo Collages, Effect
iphone apps for free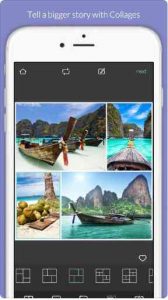 App Description :
Unlock your creativity with Pixlr – the free photo editor! Capture any moment and make it beautiful with over 2 million combinations of free effects, overlays, and filters. Once you're done, share your finished work directly to Instagram, Facebook, Twitter, or your other favorite social networks!
Follow Pixlr on Instagram (@pixlr) for tips, tricks, and daily inspiration to make cool photos. We have a fun new photo challenge for you every week.
Pixlr (formerly Pixlr Express) is the right photo editor for everyone: whether you have never edited a photo or are a pro, Pixlr has all the tools and effects you need.
App Features :
Create photo collages with a variety of choices for layout, background, and spacing.
Balance out color in one easy click with Auto Fix.
Layer multiple photos and blend them together to get a unique look, using Double Exposure.
Stylize your image to look like a pencil drawing, an ink sketch, a poster, and more.
Make your selfies beautiful with simple tools to remove blemishes and red-eyes or to whiten your teeth.
Focus on one color with Color Splash or add impact with Focal Blur.
Choose from a pool of effect packs to give your image the look and feel you want.
Adjust the mood of the photo with overlays – amplify the tone, cool it down, or add surreal shades.
Mask your photo with captions or overlay it with text. Choose from a variety of fonts.
Finish off your editing process with the right border – pick a style that suits you.
Keep things fresh with our growing catalog of additional effects, overlays, and border packs.
Keep track of your favorite effects and overlays with the Favorites button.
Resize images quickly and easily after editing.
Share your photo directly with friends through Instagram, Facebook, Twitter, or email.
Please continue to tell us what you think about Pixlr by leaving a review here in the App Store or contacting us via Instagram (@Pixlr), Twitter (@Pixlr), or Facebook (/Pixlr).
Additional Information :
Compatible with iPhone, iPad, and iPod touch.
Requires iOS 9.0 or later.
Size 97.6 MB
User Reviews :
I have created amazing images using Pixlr, so beautiful, that many people are now asking to purchase them. I would like to commend its developers for coming up with such a great App.
With just a few changes, it would be A+++++.
1. Stickers. OMG! Listen…..with such great aesthetics going on in the filters and the effects, why would you include stickers that look like they were made for kids, or adults who behave like kids??? They don't AT ALL seem like they are even part of the App at all! It's like they migrated in through the back door from a nearby sandbox! They are cartoons.
Please, please…give us some which match the sophistication of the App, that would elevate the look of the photo, rather than throwing Big Macs on it. A hint….design stickers which look like part of the art work, instead of fighting it— i.e., smudges, scrapes, liquids, nature— Impressionistic style….
2. You affixed a price to some of the better Effects. Fair enough. But often you need to try out several before you settle on the right look. How about you let the use experiment with a few and then charge him/her right before they save it? You're tchies— you can figure this out.
3. Small Things— too many "droplet" shaped effects…..way too many in the rain-spattered pattern.
Other than these points, the App is very good…very. Keep up the good work, make my changes, and it will award winning!
Thank you and good luck.
Get Pixlr from App Store
What is your opinion about Pixlr
Get more free apps & games daily
Subscribe to our mailing list and get free apps & games daily to your email inbox.
Thank you for subscribing.
Something went wrong.