(App) Phonto – Text on Photos
iphone apps for free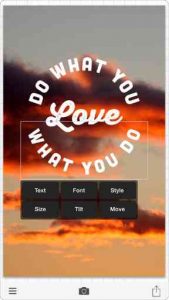 App Description :
Phonto is a simple app that allows you to add text to pictures.
App Features :
More than 400 fonts are available.
You can install other fonts.
Text size is changeable.
Text color is changeable.
Text gradient is changeable.
Text's stroke color is changeable.
Text's shadow color is changeable.
Text's background color is changeable.
Text is rotatable.
Text kerning is changeable.
Line spacing is changeable.
Curved text.
Perspective text.
Parts of text are erasable.
Image theme is changeable.
Items (Balloon, Rectangle, Star, Heart) are available.
Background image is changeable.
You can use not only pictures, but also plain images to write text.
You can share photos on Facebook, Twitter, and Instagram.
URL scheme: phonto://
Try Vont app, if you want to add text to videos. Vont is a free app that is available on the App Store.
LANGUAGE
Phonto supports only English (US), Chinese and Japanese, so when the priority of Chinese (or Japanese) in your setting was higher than English, Phonto would be launched as Chinese (or Japanese) mode.
To solve this problem…
1. Open the Settings app.
2. Choose 'English' in 'General' > 'Language & Region' > 'iPhone Language'.
3. Turn back your 'iPhone Language' to your favorite language.
HOW TO INSTALL FONTS
Using iTunes, you can copy font files between your computer and Phonto on your iOS device.
1. Select your iOS device from the Devices section of iTunes.
2. Click the Apps tab and scroll down to the bottom of the page.
3. Select "Phonto" in the "File Sharing" section.
4. Drag and drop .ttf or .otf font files into "Documents".
5. Restart Phonto.
More detail about how to install fonts.
phon.to/install_fonts
Twitter: @phontograph
Tumblr: phontogra.ph
phon.to
We obtained new URL which links to Phonto on the App Store. We appreciate if you introduce Phonto to your friends.
Additional Information :
Compatible with iPhone, iPad, and iPod touch.
Requires iOS 9.0 or later.
Size 74.2 MB
User Reviews :
This is the best photo editor app. Ever. This is better than PicCollage, Over, and other apps like this. PicCollage is great, it's somewhat of a social media, you can use videos and photos from the web instead of photo roll, but the choices are very limited. There's only 15 fonts, I believe. Over, sure, it's good, but you mainly have to pay to really use it to even half of its potential. Pronto is beautiful. Most of the fonts that I like, especially ones from Google apps, are on there. I don't have to add my own. It's somewhat confusing at the beginning, but only because it doesn't provide a tutorial. The basics of using it is pretty much everything on there. Just search up how to use it and stuff. You can use the app to make quotes, business cards, logos, slogans, etc. If I were you, and wanted to take a photo from, let's say, Safari for a pretty background, take a screenshot and click edit, click the weird right angles, and crop to your content. This is because Phonto only uses photos from your photo roll, and because the cropped is challenging to use for me, at least. I wish I could rate it with google stars! Get this!

So I first downloaded this to create a simple menu for print. This was years ago—and because of the simplicity and functionality of Phonto, I have since learned how to truly use it to its fullest potential. I do social media marketing and graphic design, and even if I start making a design in another program, I finish it in Phonto. It's my tried and True. I love that you can add your own photo images and fonts. I often use it in conjunction with a background eraser app.

I also have a Cricut cutting machine, and I prefer phonto to cricut design space for designing.

***one request***

Please consider making a "save as" and "save" feature. The one thing that the app is lacking, is the ability to save your work as you go, and return to it later. If this feature became available, phonto would absolutely perfect.

Don't let the simple interface fool you, play around with phonto a bit, and discover its endless possibilities!
Get Phonto from Play Store
Leave your feedback regarding Phonto
Get more free apps & games daily
Subscribe to our mailing list and get free apps & games daily to your email inbox.
Thank you for subscribing.
Something went wrong.
Summary
Reviewer
Review Date
Reviewed Item
Author Rating