(App) Orangetheory Fitness
iphone apps for free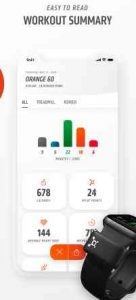 App Description :
Orangetheory Fitness is a science-backed, technology-tracked, coach-inspired group workout designed to produce results from the inside out, giving you a longer, more vibrant life. And with our next generation mobile app that takes the guesswork out of your workout, we make it simple for you to track your progress and experience life-changing results.
App FEatures :
We've combined the following features into one seamless experience:
Search and book Orangetheory classes across multiple studios at once
View and manage favorite studios at a glance
Track workout stats in real time
Manage out-of-studio workouts
Sync classes with your favorite calendar app
Integrates with the Apple Health and sync your out of studio workouts
More details:
CLASSES
Book and cancel classes
Purchase class packs
Join a waitlist and get notified when you have a spot in the class
STUDIOS
Find Orangetheory studios near you and save your favorite locations
See schedules for all Orangetheory studios
View promotions from your local studio
WORKOUT STATS
Track all your favorite workout stats from the studio
Connect your Apple Watch to our heart rate monitoring system using the OTbeat Link and track workout results in real time.
More Results leads to More Life. Download the Orangetheory Fitness app today!
Additional Information :
Compatible with iPhone, iPad, and iPod touch.
Requires iOS 12.0 and watchOS 6.0 or later.
Size 202.2 MB
User Reviews :
OT has completely changed my relationship with fitness and how I view my body. I now value being STRONG over skinny and I love the sense of accomplishment that comes with finishing each class. The group setting boosts my motivation to put my hardest work in every time (low motivation has always been a set back for me) I give my body OTF every morning Because I deserve to feel my best and it sets me up with a full tank of energy for the rest of the day to conquer ANY task with zest. I Nanny 4 kids- so I need that energy! Everything worthwhile is hard in the beginning. I struggled with knee issues because I had so little muscle around my joints… and there were a lot of days I really had to drag myself to get there- but I just kept showing up and now it's a regular and enjoyable part of my life. OTF is a non negotiable self care source for me now. I love my trainers and the community it builds. I'm on my 813th class over 3 studios. It has helped my younger brother fight through a tough season of depression and what can I say? OTF for life!
Started OTF in September of 2018. In the first 6 months, I went 2 times a week just to get use to the program and to make sure at my age (57) that I could do this.Switched over to the unlimited program and started going 3 to 4 times a week. All of this is based on a difficult work schedule with long hours making it a priority to get in my workouts.The results in year (1): lost 20 lbs. slowly which is best (say patient). Energy level increased 2 fold which is something I was looking for. The workouts are now something I look forward to because I feel great at the end of the session. The challenge is food intake and watching what I eat. Working on my next 20 lbs. in year two to reach my goal of 40 total pounds.Orange theory is a lifestyle change for the better and I want to be in great shape so when I we have grandkids, we can enjoy doing family trips together and I can keep up.Thank You OTF.
Get Orangetheory Fitness from App Store
What is your opinion about Orangetheory Fitness
Get more free apps & games daily
Subscribe to our mailing list and get free apps & games daily to your email inbox.
Thank you for subscribing.
Something went wrong.