(App) Drink Water Reminder N Tracker
iphone apps info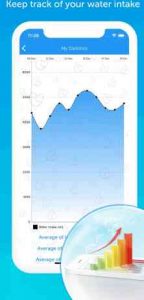 App Description :
Water is essential to our life, drinking enough and right quantity of water is vital to our health. But because of our bad memory, busy work or too many little things, the day is ended before we drink enough water.
App Features :
Drink Water App's functions are :
Is simple and easy. Making it adequate for any age
Daily water intake calculator based on your sex, weight and country(Hot/Cold). Lets you know how much water you should drink daily.
Notifications and reminders to remember you to drink water as you prefer and helping you to drink more water.
Automatic bed time mode so you don't receive reminders on the middle of the night. Making it a smarter reminder.
Graphic display of your hydration level and daily consumption.
Easy to add or modify a alert time. show you stocks of water remaining to take.
Consumption Chart Statistics so you can know your hydrated level and have all the drink water benefits.
Customize sound and message of alert as you want to receive.
Track History of logged water and adjust past water consumption.
oz and ml support
ensure your water delivery on time
maintain your Better Health Statistics and Health Plans
integration to health app
Advantages of have a good water balance
Stay slimmer
Revs up metabolism and helps you feel full.
Replace calorie-laden beverages with water and drink more before meals to help you feel fuller.
weight maintain and over weight person to reduce weight , may help in weight loss
Boosts your energy
If you're feeling drained and depleted, drink more. Beign dehydrated makes you feel fatigued.
Lower stress
85% of your brain tissue is water. If you're dehydrated, both your body and your mind will be stressed.
Build muscle tone
One of the water benefit is to prevent muscle cramping and lubricates joints in the body.
Nourish your skin
Fine lines and wrinkles are deeper when you're dehydrated. drinking hydrates skin cells and plumps them up, making your face look younger.
Stay regular
Along with fiber, water is essential for good digestion. invest into your future.
Reduces kidney stones
The rate of painful kidney stones is rising because people, including children, aren't drinking enough water.
water dilutes the salts and minerals in your urine that form the solid crystals known as kidney stones.
Better Health
improve your health plans and move a head with finest water delivery , make this app as your better health and fitness trainer
Note : App provide you water information based on your weight, sex and country(hot/cold), consult a doctor in your area for better intake.
please write your experience as review, this would help a lot.
if any demand just go to feedback section in app we are always there.
thank you for using this water app!.
Additional Information :
Compatible with iPhone, iPad, and iPod touch.
Requires iOS 7.1 and watchOS 2.0 or later.
Size 40.3 MB
User Reviews :
I love this app for reminding me to drink enough water and improve my overall health from it. It works with Apple Watch, so I get notifications even if I'm too busy to check my phone. I LOVE that the developers have even thought of allowing users to choose how often notification happens, what the notification sound is, and even what the notification actually says! I would've rated it 5 stars if It didn't require me to write a review in order to use all of its functions, EVEN after I'd paid for the full version. Also, it took me a minute to figure out how to use the bottle on the home page it looks like it should fill up the bottle the more you drink. But it's actually how you choose how much water you are entering that you drank. Maybe I missed a tutorial on that though (I tend to skip over those sometimes.) Worth downloading though and paying for the full version!
Well the app is very well thought out, i can see what the designer was going for, but its not quite there; the app is buggy, the ads are annoying and tedious when you're navigating the screens, especially during the initial set up when you have to change screens a lot. and again the app is buggy, it locks up, the num pad doesnt have an 'enter' button, so the box doesnt return when you're done entering a number, you have to change tabs/pages and – boom another ad, then change back to the page where you can edit your settings, boom another ad. also it seems that the times the reminders doesn't adjust to your real schedule but is really just preset. i think a lot more math and calculation is needed here but the programmer didn't want to spend the time to implement that… to me the subtle details make or break this app. in its current form i cannot see paying for it, or giving it higher than a 2 – i could literally program a reminder – alarm in my phone to do what it does, except i would then need to manually log the water in health kit… cool concept, sloppy execution, please continue to improve this app.
Get N Tracker from App Store
What is your opinion about N Tracker
Get more free apps & games daily
Subscribe to our mailing list and get free apps & games daily to your email inbox.
Thank you for subscribing.
Something went wrong.