(App) My Water Balance
iphone apps for free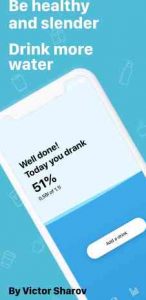 App Description :
My Water helps you drink water regularly. Calculate your daily water intake and get notifications!
Water is essential for life on our planet. Roughly 70 percent of the body is made of water. We require water for almost every function within our bodies, from flushing out toxins to digestion. Water is essential to good health, yet needs vary between individuals. This app can help ensure you drink enough fluids.
App Features :
Water requirement calculator
Reminders
Units (Metric and fl oz)
Statistics in graphs
Motivational awards
Useful tips about water
You may need to modify your total fluid intake depending on how active you are, the climate you live in, your health status, etc., the calculation is only recommendation.
The application supports Apple Watch and is integrated with Apple Health.
This is one of the first applications with support Apple Watch! Application integrated with Apple Health to get information about your body measurement to calculate your water intake.
For extended features such as different beverages, detailed statistic, custom volumes and other useful features get the My Water Premium.
Two different plans: 1 month/$4.99 and 12 months/$29.99 with discount (50% off)!
My Water Premium subscription:
The purchase will be charged to your iTunes account
The subscription will be auto-renewed 24 hours prior to it running out
Account will be charged for renewal within 24-hours prior to the end of the current period, and identify the cost of the renewal
Manage your subscription from User Settings in iTunes after purchasing. Cancel the auto-renewing subscription from there at anytime.
Terms and Privacy Policy: victorsharov.com/mywater/privacypolicy/
Additional Information :
Compatible with iPhone, iPad, and iPod touch.
Requires iOS 11.0 and watchOS 4.0 or later.
Size 77.6 MB
User Reviews :
You might not think this app is necessary but you'd be surprised how much you'd end up loving it and using it all the time. Most people don't drink enough water. I intermittently fast as the construct of my diet so staying super hydrated is paramount considering the toxins released needing to be flushed out. I also follow a plant based diet so the no soluble fibers are high in my diet making fluids important for more efficient digestion. I know it sounds ridiculous but it'll change you more than you'd think being able to track your water intake. On top of it all the biggest thing I've noticed is my expanded cognitive capacity and hyper focus. It's like I've discovered the limitless drug and it's been water all this time lol! You can knock me and continue on your current life's path, or you can try this and expand your horizons. Choice is yours…..
I really appreciate this app as it helps me easily log my fluid intake and send me notifications to reach my daily goal. But some of the different types of beverage choices can be misleading with how it calculates the water content. I drink a lot of green tea and sugar-free sports drinks on days that I workout. But both of these, while almost all water, are calculated as much less fluids than regular water. I wish this app had both the total amount of fluid intake along with the total water intake. Some days I find myself drinking 2-3 extra cups just to fill the meter when technically I've already met my total fluid intake goal. Additionally, editing my log of drinks isn't as easy as it could be. Sometimes I just want to edit a drink's volume but that would require having to delete it entirely and reentering the whole thing. Overall, the app is helpful as a daily reminder and has motivated me to stay hydrated, but there are some changes that could make it more informative and user friendly. All changes that seem reasonable for an app that you have to pay so much for to get the full as a lifestyle tool.
Get My Water Balance from App Store
What is your opinion about My Water Balance
Get more free apps & games daily
Subscribe to our mailing list and get free apps & games daily to your email inbox.
Thank you for subscribing.
Something went wrong.