(App) Misfit
free apps for iphone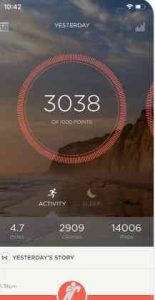 App Description :
The Misfit app is an easy-to-use fitness and sleep tracking app that drives Misfit's suite of design-forward fitness trackers and smartwatches, including Misfit Vapor, Command, Path, Phase, Ray, Shine 2, Flash, and Shine. Beautiful and durable, all Mis fit devices are swimproof and the fitness trackers never require charging (batteries can last up to 12 months depending on device).
App Features :
This app requires an iPhone 4S or newer. For product setup information and tutorials, including videos, visit: www.misfit.com/go
What our customers say:
Used my Mis fit Shine for over 10 months and it's still a fun motivating gadget that doubles as a watch for me (and I lost 20 lbs).
Beautiful and easy to use.
The auto sleep tracking feature is amazingly accurate as is the activity tracking.
Interface is detailed but easily read and transfers to MyFitnessPal seamlessly.
I am an avid swimmer. This is the only wellness tracking device that is truly waterproof and provides so much functionality.
Beautiful and intuitive. Mis fit updates it frequently and truly listens to user ideas.
Great customer service and support.
I love that I can wear my Mis fit 24/7 without worrying about charging it or taking it off to shower.
I never want to be without my Shine ever again…A MUST have activity tracker. LOVE my Shine!
Use the Mis fit app to access these features:
View detailed activity and sleep data (trackers only), including steps taken, distance traveled, calories burned, hours slept
Set up and receive notifications from your smartphone, including calls, text messages, and more
Create a goal and track your progress over time; view trends, including your activity levels over the course of the day, week, or month
Get lifetime insights on your profile, including total miles walked and average sleep
Log activity sessions including running, walking, basketball, tennis, swimming, soccer, cycling, yoga, and dance
Add friends and compare your daily activity
Track your food with a photo food journal
Connect with your other favorite fitness, health, and smart home apps including Apple Health, MyFitnessPal, Lose it!, RunKeeper, MapMyFitness, IFTTT, Nest, and more
Shine 2 and Ray only: Enable a silent vibe alarm on your wearable to gently wake you up in the morning
The app also supports Swarovski Activity Crystal, Speedo Shine. Don't have a Misfit yet? Get yours now at misfit.com.
Mis fit designs smartwatches and fitness + sleep trackers. Mis fit brand products include Misfit Vapor, Command, Path, Phase, Ray, Shine 2, and Shine and are available at misfit.com and fashion and consumer electronic retailers around the world.
For product setup information and tutorials, including videos, visit: www.misfit.com/go
Find us on Instagram @MisfitWearables and Twitter @Misfit.
Additional Information :
Compatible with iPhone, iPad, and iPod touch.
Requires iOS 10.3 or later.
Size 312.5 MB
User Reviews :
I just switched from the Up app when I got a Shine. I love the tracker, but less so the app. This app works OK, but required some setting experimentation with my Apple Health app, since at first it was double-counting steps and retroactively adjusting my total down, since I sometimes don't carry my phone. That's said, my biggest problem with this app is not being able to set my own goals. The fitness goals are based on points, which first I thought was good because it would count other activities like cycling. However, when I took a 10 mile ride, and logged it to the app, it didn't add any points to my total. Why not just call it steps if other activities don't get converted? Also, there are 3 levels of fitness goals, which are not customizable. I want to step my goals up over time, not set an impossible goal I'm never able to meet, or a goal so low it's not motivating. And the weight goal is laughable–and completely worthless–since it's not what I am aiming for. Oh, and now the app crashes when I try to sign in (after updating app) so I can't see any of my history! Hopefully that will be fixed, but until I can set my own goals this app is barely adequate, when there's so much more potential here.
I've had my misfit for years. The first 6 months the unit kept falling out of its watch band; the company actually sent me replacements twice *and* a sturdier watch band. The new band was only slightly better at keeping the misfit unit attached. Thankfully it's magnetic; i found it once stuck on the outside of my car. It wasn't until i spent $70+ on the "pendant" holder did my issues with losing it end. If only having the misfit lay on my chest resulted in an accurate count on my steps/activity; it was and has never been accurate. My unit is not an "older" model. I'm not going to invest in a newer model, even though the expectation would be an improved unit. I have an i watch now that accurately records swimming (I chose the misfit because it's waterproof, but it never ever was accurate in the pool worn around my neck). I still wear the misfit to get information on my sleep; which I think *is* accurate. I get loads of compliments on my pendant and it is pretty. I do not recommend the misfit I own. Again the newer models are likely to be improved, I'm just not willing to invest any more money on this brand on a hope.
Get Misfit from App Store
What is your opinion about Misfit
Get more free apps & games daily
Subscribe to our mailing list and get free apps & games daily to your email inbox.
Thank you for subscribing.
Something went wrong.