(Game) Mini Warriors
free games for ipad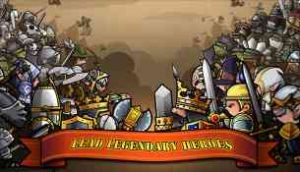 Game Description :
With recruiting powerful heroes and leading invincible armies, you can beat back evil enemies so as to accomplish glorious achievement.
Atlas is calling for you! Joining in our legion alliance to fight against Nigel, God of Darkness, and crush his conspiracy!
In the 2D cartoon multiplayer game, you as a lord can create own valiant legion and recruit great heroes, who have been lauded by poets for hundreds years. Those heroes lead troops including cavaliers, magicians, archers and warriors to fight for Balthazar, God of Brightness.
Game Features :
Amazing battlefield with more than one thousand troops in it:
Exciting real-time combat, winning the battle after wiping out enemies in the battleground.
Flexible formations available are critical for you to reverse the course of combat.
Intense and magnificent battles involve a few of legions with great heroes doing almost everything they can to win.
Delicate and vivid cartoon images with gorgeous and exciting hero skills
Abundant and interesting game contents:
Recruit 200 different heroes
Collect more than 100 powerful items and equipments
Cultivate 8 kinds of troops with strong sense of reality
Beat enemies from 400 stages
Accomplish more than 300 achievements in the game
Play the game with other lords across the world
Tip: We suggest you to use iPhone5 or above to better experience the game.
Note: Players need to upgrade your device to iOS 8.0 or above before upgrading the game to the latest version as Apple system is no longer to support iOS version below 8.0
twitter.com/MiniWarriors_TG
www.facebook.com/miniwarriors.triniti
TRINITIgame.com/forum
Additional Information :
Compatible with iPhone, iPad, and iPod touch.
Requires iOS 8.0 or later.
Size 218.1 MB
User Reviews :
i have played this game for nearly 4 years on 2 accounts, when i got a new phone, i lost my old account, this was very discouraging, it is too hard to save your account but luckily i grinded and got an even better rally than my first account. this game is very fun and addicting, if i had to recommend any tips, it would be to add two extra rally slots so we could save extra rallies, also, add some more ways to get goblets, i have 83 4 star heroes, but it is nearly impossible to get the heroes that i actually want, jerome, william, saladin and randall are a few examples. leveling up can be extremely hard in this game, but getting that extra slot in your rally is crucial and highly rewarding. also it would be fun if you added more heroes that arent obtained from the tavern or bought with real money, more heroes obtained from quests. the arena says it is under maintenance and it makes me wonder when the next big update will be, something that will really make me want to stick with the game.
This game has been on my phone for years now and I have slowly made my way to a respectable level… however you can reach 160 levels above me. Many people do this by buying diamonds or just overkill but for a dedicated fan like me that puts in 20 minutes a day, it's hard to level up quickly (which is all I want to do). Also, at the point I'm at it's very difficult to get 4 star heroes. The last few I've gotten aren't even worth leveling up, and it's a shame because I used 10 goblets to get 2 trash 4 star heroes. It's unfair. I love the game but it needs to be easier to level up and the developers (although they are great) need to give out more diamonds (like they added the Grow section) and make it so 4 star heroes are easier to get. I STILL love the game though. Just will take me 3 years to be where I want level wise which is ridiculous.
Get Mini Warriors from App Store
What is your opinion about Mini Warriors
Get more free apps & games daily
Subscribe to our mailing list and get free apps & games daily to your email inbox.
Thank you for subscribing.
Something went wrong.
Summary
Reviewer
Review Date
Reviewed Item
Author Rating