(Game) Lux Touch 3 – World Domination
free games for iphone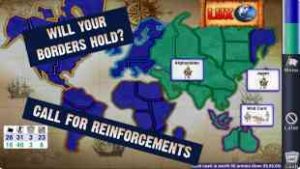 App Description :
Lux is a game of strategy and world conquest!
Similar to the board game RISK, but better!
Faster, free, with fun varied computer AIs!
Voted #1 iPhone game by Wired.com readers!
Control the Blue armies and conquer the map.
Fight a virtual war to dominate the world.
App Features :
TIPS:
attack with 3 or more armies for best odds
take over 1 enemy country per turn for a card
fully eliminate an enemy and you get their cards
Lux Touch is fully FREE!
No in-app purchases!
No risk download!
100% free!
Get our premium game Lux DLX for…
more AIs
more maps
more settings
more hot graphics
more human players
more of your dreams come true
Lux Touch is a mobile version of Lux Delux,
available now for your desktop and laptop.
Because taking over the world is fun!
Lux is NOT associated with the board game RISK.
Additional Information :
Compatible with iPhone, iPad, and iPod touch.
Requires iOS 11.0 or later.
Size 55.1 MB
User Reviews :
I use to play this on the old original Mac. I remember when it was hard to figure out why the computer did what it did, but now I obviously figured it mostly out, and it is still fun. Even though I win nearly every time, it is still fun. In fact, I try to trap all of the AI's into Africa in such a way that nobody attacks anyone (black must divide two other AI's and have more armies then them, but not so much that it will attack itself) and it goes forever in an AI stalemate.I realize the paid version has different AI's and is harder. Oh well. Still fun.
Not a good game. The computer program is rigged to let you win. Yellow is a chaos character where it goes for broke every turn, very easy to take out. Black sometimes goes hog wild but most it just stays and builds in one country. Red will always distribute armies equally across all occupied countries and will only take one country at a time until a given point and then goes chaotic. Green will casually build upon and will only take one country at a time and will never attack you until a certain point in the game, which is 99 percent of the when you have a turn in the next turn. If you know all of the above you can win the game every time. This game (the free version) doesn't at all give you the real skills necessary for the true game of Risk.
Love this game! Have been playing it for like 8 years now! I would really like to see a three player version for free though. It wouldn't need anything fancy. Just Super basic! There's no way I can justify spending money on a game. No matter how good it is. As it is, my sisters and I all play separate games against each other. Just imagine if all the devices were synced, and we could see the board with each other on it each on our own device. That would be awesome!
Get Lux Touch 3 from App Store
What is your opinion about Lux Touch 3
Get more free apps & games daily
Subscribe to our mailing list and get free apps & games daily to your email inbox.
Thank you for subscribing.
Something went wrong.
Summary
Reviewer
Review Date
Reviewed Item
Author Rating