(Game) Lure – Interactive Chat Stories
 iphone games for free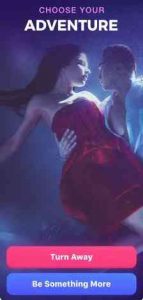 Game Description :
Lure features bite-sized chat stories told in the format of a text message conversations, like if you were watching somebody else's messenger app texts.
From suspenseful steamy romance conversations to creepy horror stories, Lure's chat stories deliver traditional stories in a gripping, engaging new way that will leave you addicted – just tap to reveal the next message and watch the episode unfold!
Game Features :
We've taken the fun of engaging with bite-sized content like Snapchat and have used it to deliver text stories in a way that is SNAPPY, SPOOKY, and ADDICTING.
Whether you want to squeeze in a quick read on your commute to work, don't have the time to read a long story or you fancy experiencing 21st century storytelling at its finest, Lure has something for you.
We've made reading fun, fast and thoroughly enjoyable – come and see what we're about!
New titles to explore everyday!
By using Lure, you agree to our Terms of Use and Privacy Policy: lureapp.com/terms-conditions.html
lureapp.com/privacy-policy.html
Additional Information :
Compatible with iPhone, iPad, and iPod touch.
Requires iOS 11.2 or later.
Size 83.9 MB
User Reviews :
So, there's two stories that I'm reading right now and I love them both. I don't want to stop reading them, but using 12 gems to start the next chapter adds up quickly; especially if you want to also use some of the gem choices/decisions in the story. The best bet is to pay the frustrating $40 to subscribe but uggh i don't want to. And waiting 4 hours to get 6 gems which you end up using in 1-2 choices makes it take forever to progress if you want to make the choices you want. So, uggh I will have to pay the 40 just to not frustrate myself while I'm stuck at home due to this stupid shelter in place virus mess. I'm sorry, it's not the developers fault that I'm debating on spending on this story or food; at least it's not toilet paper. I hope i don't get laid off. I'm sleepy. It's 1am. Oh! And if you miss a check in, they don't stack! So even if it's been 8 hours, you still only get credit for 1 check in. I'm going to bed, and will re-evaluate my life tomorrow. UPDATE! Few days later. I decided today that I'm going to subscribe because the addiction is real But noooooo, i don't have the option anymore. All it shows is an option to buy 500 gems. Bring back the annual subscription please. Ugh
I found a several good stories on this app that are very amazing and well written so of course I would love to finish them. I also am aware that this is a business and everyone has to get paid including the authors. However do you really think that in the midst of a pandemic crisis and recession that people have the money to buy gems from at $2-$99? It takes 12 gems just to open up a new episode which is really over the top… I think that watching a video to earn one gem is a great idea except that feature goes away every couple of hours and doesn't stick.. What ever happened to a monthly subscription like every other story telling app like this one offers? I'd be willing to commit to 9.99 a month to gain full access to this app. Hopefully it gets better. I'll keep this app installed to see if it gets better and more affordable for me.
I 10/10 recommend this. I have had this app for a while now and i absolutely love it. It had a story for every mood- want to be scared it has those- want to laugh it has those- want a mystery want to get steamy it has those too. There is a story for all ages and all moods. I love all the stories on it to. I love how we get to picture it on my own. Yeah you have to wait 4 hour es to get more Gems but it's definitely worth it. All of my friends recommended it to me , and when I got on I knew I was going to love it for sure. I have been recommending to everybody that dosnt have it yet. You HAVE to try it.
Developer Response ,
Thank you! We are so glad you love Lure. If you ever have any feedback or ideas please let us know at lureappig[at]gmail.com
Get Lure from App Store
What is your opinion about Lure
Get more free apps & games daily
Subscribe to our mailing list and get free apps & games daily to your email inbox.
Thank you for subscribing.
Something went wrong.