(App) Likee – Formerly LIKE Video
iphone apps for free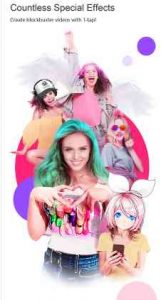 App Description :
Likee (formerly LIKE) is a popular global original video creation and sharing platform.
A World Leading Special Effects Short Video Editing Tool
With thousands of stickers and Music Magic filters to help make ideas come to life. On Likee, everyone can create trending videos with a simple tap and become the video star of their social circles! You can even use the Superme feature to make a blockbuster video in seconds or make an exclusive music video in less than a minute!
Countless Original Entertainment & Knowledge Content from Around the World
You will not only get to enjoy Likers original videos, music videos and funny clips, but also get to watch food exploration series, life hacks and so much more! Powered by the world's leading smart recommendation technology, Likee ensures that you can quickly discover interesting content that you will love!
A Short Video, LIVE Broadcast & Social Community.
Young people from all over the world gathers on Likee to meet interesting people. You will not only get a chance to meet tens of millions of celebrities and talented artists from around the world, but also get to make friends with young people from your city or near you!
A World Leading Video Creation Platform
On Likee, you can quickly increase your fan base! Likee is committed to provide a stage for talented video creators to accelerate their personal growth. Everyone has a chance to produce high-quality video content & get recommended on the popular page, gain billions of video views, earn a living via the Creator Reward feature, receive professional training from our Creator Program and quickly become the next internet sensation!
App Features :
Brand new Makeup + Micro Surgery features, which lets you put on exquisite makeup in seconds!
A tool with countless special effects, thousands of stickers, and magical emoticons, each of your selfies will look truly one-of-a-kind!
Cutting-edge Music Magic filters, create exclusive Music Videos with special effects at full sync with the music's beat!
Smart features such as Hair Color, 4D Magic, Superpowers, lets you shoot blockbuster videos on your mobile phone!
Superme, the fastest production tool that turns your photos into blockbuster movies in seconds!
Dubsmash, with a collection of dubbing script from the world's most popular movies, you can be the star of any movies you want!
Have fun and learn new knowledge from countless high-quality original video content! Discover and share a bigger world now!
An innovating magical LIVE broadcasting platform, experience something new with our unique interactive gameplay and gift effects.
Quickly get to meet new friends in your city through short videos with the "Nearby" feature!
A global short video creation platform, where everyone has a chance to gain popularity, billions of video views and quickly become the next internet sensation!
Additional Information :
Compatible with iPhone, iPad, and iPod touch.
Requires iOS 9.0 or later.
Size 166.7 MB
User Reviews :
This app is awesome. Your new designs are nice and are really useful. And I know that you guys do your very best on making this app successful for the people who enjoy it. I just have one little problem though. From your app Like, you had levels that when you reached them, you can have special privileges. One that I found out that stood up to me was the one where if you reached level 25, you can remove the watermark on your videos. So I have been trying so hard to earn my way up to level 25 by making videos and giving out gifts on other people's live-streams. When I was close on reaching level 25 which I am on level 23, you guys came up with the brand new update Likee. I first thought, "Oh cool! I can't wait to see what new stuff they had added." But when I went to go check on the level and special privileges section, I saw that the remove watermark special privilege was gone . I'm not forcing you guys to do anything. But I just want to let you guys know that I worked so hard to get to level 25 and I would really appreciate it if you were to bring it back so my work wouldn't have to go to waste. But either than that. Marvelous job, and keep making new discoveries and ideas to show the world. Thank you for your time.
Developer Response
Thanks for your advice. We will try to optimize it in future release. So stay tuned for updates! For further suggestion, feel free to contact us through Whatsapp (0091 9971270901) or email to feedback[at]like.video. Thank you.
Get Likee from App Store
What is your opinion about Likee
Get more free apps & games daily
Subscribe to our mailing list and get free apps & games daily to your email inbox.
Thank you for subscribing.
Something went wrong.