(App) Lifesum – Diet & Macro Tracker
iphone apps info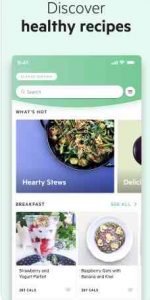 App Description :
Your personal diet plan, food tracker, calorie counter & healthy recipes, all in one place. Reach your goals with Lifesum!
Discover how tracking small habits can make a big difference & join millions on their journey to a healthier, happier you.
Low carb, ketogenic or high protein? We'll help you find a diet plan best suited to you. Need some help to stay on track? Fear not. We've got tips, reminders & an intuitive food diary to help give you a hand.
App Features :
Diet plans & tips for any goal – lose weight & eat healthy
Calorie counter with barcode scanner for easy food tracking
Macro tracker – see your daily nutrition & calories
WEIGHT LOSS & DIET PLANS
Take our test to discover which plan best suits your schedule and lifestyle. From low carb to keto diet and everything in between, we have the right plan for you and your weight loss goals.
FOOD DIARY & MACRO TRACKER
The macro tracker ensures you reach the right type of energy composition to reach your recommended intake. Simply scan barcodes for calories and nutrition information, or enter manually.
RECIPES & MEAL PLANNER
Healthy recipes help you stick to your meal plan. Explore ketogenic recipes to beat the sugar cravings or search for keto ideas for snacks to eat. You also get daily feedback to keep you in the right mindset and help you lose weight.
Download Lifesum now and get healthier today!
Lifesum integrates with HealthKit, so you can export nutrition and exercise data from Lifesum to HealthKit, and import fitness data and weight and body measurements from HealthKit to Lifesum.
For extended features such as specialised diets and detailed nutrition information, and to sync with fitness apps such as Moves, Nokia Health, FitBit, Jawbone, Endomondo and Runkeeper, get the Lifesum Premium membership (3,6 & 12 months).
Lifesum Premium Subscription:
The subscription period will automatically renew unless the auto-renew is turned off at least 24 hours before the end of the current subscription period. To turn this function off, simply go to your iTunes account and turn off auto-renew. Renewal payments will differ depending on subscription and pricing at the time of renewal. Your iTunes account will be charged when the purchase is confirmed.
Terms and Privacy Policy: api.lifesum.com/mobile-terms
Additional Information :
Compatible with iPhone, iPad, and iPod touch.
Requires iOS 11.2 or later.
Size 167.4 MB
User Reviews :
Want to lose weight? Gain muscle? Simply follow a healthier and more balanced diet? Lifesum can help with any or all of these goals, wrapping together delicious meal plans, detailed exercise tracking, and even regular reminders to drink plenty of water. There are diets to suit a variety of goals, tons of trackable fitness activities, and a friendly, supportive guide that keeps the science tucked away behind the scenes.
So elegant and visually appealing
What a gorgeous app- that alone makes me want to open it and track. I love that it there's a water tracker, daily fruit and vegetable and weekly seafood tracker and that they give you a life score with details on what to improve each week. Sure, a few glitches like not currently syncing with Health app (I open both then close both and open once more then it tracks), and the recipes and sometimes the database doesn't have the exact food but does have something comparable, just takes a smidgen more work. The beta camera isn't the greatest if you have a deep dish as opposed to a plate but it sure is handy and easy enough to adjust. And there's not many recipes, but the ones available are easy to follow and pleasant to eat, plus how often does one follow a recipe to a T? I've tried other tracking apps (looking at you MFP) and all the ads and monotone color scheme make them too unidimensional- this is beautiful, too beautiful not to use. And the step counter that equates steps to what you burn makes me just competitive enough with myself to make me want to walk even more (I burned 1.5 croissants?!? Bet I can burn 2!). I'd like to buy the app developers a beer. Then go walk said beer off. I saw a couple of review that say the app is rigid in terms of certain foods like sunflowers, and though I appreciate the sentiment, I am using the app for weight loss and do indeed want to know if a food is high in caloric content.
Developer Response ,
Thank you very very much for your detailed feedback! We are glad to hear that you like Lifesum!

The verified foods are from several food databases: the USDA, food items from Livsmedelsverket in Sweden, from the UK Food Standards Agency and the BLS from Germany.
Get Lifesum from App Store
What is your opinion about Lifesum
Get more free apps & games daily
Subscribe to our mailing list and get free apps & games daily to your email inbox.
Thank you for subscribing.
Something went wrong.