(App) LibriVox Audio Books
 iphone apps info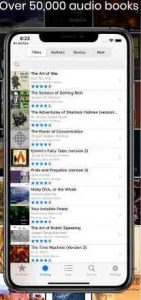 App Description :
LibriVox Audio Books provides unlimited access to over 50,000 audio books. Each audiobook can be streamed over the internet or downloaded for later use. The LibriVox Audio Books app features classic best sellers and out of print treasures from every genre of literature in more than 30 languages.
App Features :
Audio books from LibriVox are free thanks to the dedicated work of hundreds of volunteers who record, edit and distribute the books. New releases are prepared daily, and the entire catalog spans the breadth of world literature, including novels, history, biography, short stories, poetry and more in both fiction and non-fiction.
The LibriVox AudioBook app makes it easy to search the LibriVox catalog of free audio books. You can browse by title, author or genre, look at new recordings, or search by key word. Because the books are free, you can listen to as much or as little of a book as you like with no cost. The app remembers your position, so you can return to a book later, and includes unlimited bookmarks and a sleep timer for your convenience.
Additional Information :
Compatible with iPhone, iPad, and iPod touch.
Requires iOS 11.0 or later.
Size 11.6 MB
User Reviews :
Large library. Most of the recordings sound fine to me, and the organization of the app is impressive for a free download. Really, the only detraction for me is the ads, but they have to make money somehow.. That being said, they are relatively minimal and once you get your book going, its not bad at all. I am a person that will instantly uninstall if the ads are overwhelming and give a 1 star, so that should tell you my thought on the matter. Ill put a book on at work and maybe hear 1-2 ads per 8 hour shift. Will definitely be paying for the premium version, but not because I feel like I need to to enjoy the app. More because Libravox is a breath of fresh air, and I want to support.
I have used LibriVox for the past three years and am always consistently blown away by the skill of some of these amateur readers. I also have Audible, and with both combined I feel like there is always something interesting and new to experience. LibriVox's best feature is the wide, free use of public domain writings. The search for good readers is rewarding, albeit different than Audible. The difference is that with LibriVox it doesn't cost me a cent. Excellent. The mobile app is very straightforward, and in a way offers even more options than my subscription, in particular the playback speeds.
This review is for the app (LibriVox is one of the best things on the modern internet). Playback and downloading works well. Search algorithm finds what you want most of the time (though having separate entries for different readings of the same book makes things more complicated than they need to be). The only serious problem is ads. Not that they exist. They're infrequent and generally tasteful. It's the VOLUME. The ads don't seem to be scaled to the same volume as the books. Rather, whenever an ad plays there's a large spike in volume and I'm inevitably startled if I'm wearing headphones. It's particularly troublesome if you're listening to a book to help you sleep.
If you want to listen to great literature from the past and don't have the time to read, this is a wonderful application. You can pull up documents of historical and religious significance. You can listen while they are read to you and you were able to do another activity while you're listening. I have especially enjoyed listening to William Bradford's record of Plymouth colony. I highly recommend it. You have no idea of the myriad obstacles the Pilgrims overcame until you've listened to it.
Firstly, I LOVE this app! Thank you for making it possible for me to revisit old classic books and find new ones through your app. Lately, though, it's been such a chore to open the app and continue with a book. If I don't happen to finish a chapter before closing the app, it will take me back to the beginning of the chapter when I'm ready to start listening again. It's very difficult sometimes to fast forward and find my place! This is a relatively new problem (over the last month, I'd say). Is there anyway to fix this? Is there a setting I inadvertently turned on? Thank you for a timely answer! I WILL change my rating to 5 stars when this is fixed!!
Get LibriVox Audio Books form App Store
What is your opinion about LibriVox Audio Books
Get more free apps & games daily
Subscribe to our mailing list and get free apps & games daily to your email inbox.
Thank you for subscribing.
Something went wrong.