(App) Libby by OverDrive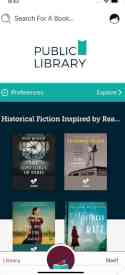 App Description :
All over the world, local libraries offer millions of ebooks and audiobooks. You can borrow them — for free, instantly — with a library card and Libby: the award-winning, much-loved app for libraries.
App Features :
Browse your library's digital catalog of books — from classics to NYT best-sellers
Borrow and enjoy ebooks, audiobooks, and magazines
Download titles for offline reading, or stream them to save space
Send ebooks to your Kindle (U.S. libraries only)
Listen to audiobooks via Apple CarPlay
Use tags to create your must-read list and any other book lists you want
Keep your reading position automatically synced on all your devices
In our beautiful, intuitive ebook reader:
Adjust text size, background color, and book design
Zoom into magazines and comic books
Define and search for words and phrases
Read and listen to read-alongs with your kids
Add bookmarks, notes, and highlights
In our ground-breaking audio player:
Slow down or speed up the audio (0.6 to 3.0x)
Set a sleep timer
Simply swipe to skip forward and backward
Add bookmarks, notes, and highlights
Libby is built by the team at OverDrive, in support of local libraries everywhere.
Happy reading!
Additional Information :
Size 19.7 MB
Requires iOS 9.0 or later.
User Reviews :
Great App, Great Service
Libby is an essential app for book lovers, particularly during this time when many libraries are closed to visitors. I have been using the app for several years and always been happy with it. Recently, updates to the app have made it even better—particularly the option to have a hold delivered later (useful when multiple holds come available at the same time). The app is easy to use for reading and listening on the go, but I also love the ease of sending ebooks to my Kindle when I want a larger screen. (One downside is not being able to send audiobooks to Audible, which would enable whispersync between ebook and audiobook for readers who are doing both, but I suspect that's an issue with Amazon's audiobook model rather than the library.) I like being able to track how long I will need to wait for a book (Libby often overestimates the wait time, which I appreciate because then I'm pleasantly surprised when the book becomes available early). I appreciate being able to link multiple library cards in one app and switch between them easily.

When it comes to potential negatives for some readers (such as long wait times for popular books), it's important to remember that those issues are just part of being a library reader rather than buying all your books—not an issue with the app itself. Go ahead and place the hold; high demand for a book often encourages public libraries to purchase additional copies (or digital
licenses) for the book.
Love!
I think it's so cool how you can use this with your library card. This is my go to reading app! I just wish it was available for NOOK tablets. Kind of an old device, but it's sort of a drag to read a book on overdrive and it not be synced up with my libby app therefore it wasn't tracking my reading time. Other than that, love it.

Some people are complaining on here that they have to wait 5 months for a book or so… can't you find a book that isn't super popular right now and put a hold on what you want? That's how you discover really good books. Patience and curiosity. I find it super annoying/entitled that people are saying this because eventually it will be your turn, just have patience and read something else. If you want it that bad, buy it . It's not libby's fault and I think it's also unfair to assume someone isn't reading a book because they're taking their time with it. There are plenty of books out there chill out. I however do think there should be a system though where it detects if a book has been opened frequently or not so then people who do need a book for school or something can get it because its much more needed by them obviously.

The reason this is my favorite reading app is because of the synchronization aspect and that it can track your reading time. You can disable that, but personally, its why I love Libby the most.
Convert from OverDrive
Finally I have switched from OverDrive to Libby. I loved the simplicity of OverDrive but eventually Libby's overall better usability won me over. Libby is a must-have app for any avid reader/audiobook listener. I loved the recent addition of the feature of delivering later, very convenient for those of us who place holds on multiple books since it is difficult to predict when a book will indeed be available. This likely will shorten the overall wait for everyone in the waiting list. I also very much appreciate the ability to view a history of my search terms and it seems to search across all my libraries (significantly improved over OverDrive), although Libby does not clearly indicate whether it does search across libraries. This could perhaps be improved.

I would have given a 4.5 rating but there is option for half points. A few improvements are desired. For one, it is never clear to me which direction my finger should slide to forward/rewind, and I often do the opposite, hence taking more time due to the confusion. It would be much better to have clearly indicated rewind/forward direction, e.g., those 15 sec rewind/forward buttons in OverDrive. Another suggestion is to make it easier to access the book details for books on my shelf. Right now "view title details" is buried several menu clicks deep. I still use OverDrive to recommend books that my libraries don't have — would be great to be able to do this in Libby.
Get Libby from App Store
What is your opinion about Libby
Bitcoin
Ethereum
MetaMask (ETH)
Xrp
Polkadot
Binance coin
Stellar
Dogecoin
Tron
Elrond
Donate Bitcoin to this address
Scan the QR code or copy the address below into your wallet to send some Bitcoin
Donate Ethereum to this address
Scan the QR code or copy the address below into your wallet to send some Ethereum
Donate Xrp to this address
Scan the QR code or copy the address below into your wallet to send some Xrp
Donate Polkadot to this address
Scan the QR code or copy the address below into your wallet to send some Polkadot
Donate Binance coin to this address
Scan the QR code or copy the address below into your wallet to send some Binance coin
Donate Stellar to this address
Scan the QR code or copy the address below into your wallet to send some Stellar
Donate Dogecoin to this address
Scan the QR code or copy the address below into your wallet to send some Dogecoin
Donate Tron to this address
Scan the QR code or copy the address below into your wallet to send some Tron
Donate Elrond to this address
Scan the QR code or copy the address below into your wallet to send some Elrond