(Game) Kingdom Rush
free games for ipod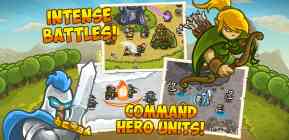 Game Description :
#1 Strategy Game on the iPhone and iPod Touch
One of the most engaging TD games we've played
Slidetoplay.com (STP Score of 4 out of 4 "Must Have")
This is easily one of the best TD games currently in the App Store
Gamezebo.com (4.5 out of 5 Stars)
Kingdom Rush can be filed in the thin folder marked "games that are pretty much perfect
JayisGames.com
This is one kingdom you'll be in no rush to escape from
PocketGamer (Gold Award – Score 9)
TD with a Touch of Excellence
toucharcade.com (4.5 stars out of 5)
The acclaimed action fantasy defense game is now available for iPhone and iPod! Get ready for an epic journey to defend your kingdom against hordes of orcs, trolls, evil wizards and other nasty fiends using a vast arsenal of towers and spells at your command!
Fight on forests, mountains and wastelands, customizing your defensive strategy with different tower upgrades and specializations! Rain fire upon your enemies, summon reinforcements, command your troops, recruit elven warriors and face legendary monsters on a quest to save the Kingdom from the forces of darkness!
Game Features :
Epic defense battles that will hook you for hours!
Command your soldiers and see them engage in hand to hand cartoon battles!
8 specialized tower upgrades to customize your strategy! Mighty Barbarians, Arcane Wizards, Forest Rangers to name a few.
Over 18 tower abilities! Have your Sorcerers summon earth elementals and polymorph your enemies!
Over 45 different enemies, from Goblins to Demons each with their own skills! (Beware of the mountain Trolls!)
Intense boss fights never seen on a defense game!
Hours of gameplay with over 50 achievements
Extra game modes that will challenge your tactical skills to the limit.
High definition awesome illustrated cartoon art!
In-game encyclopedia with information from your towers and enemies.
Retina display!!!
Additional Information :
Compatible with iPhone, iPad, and iPod touch.
Requires iOS 8.0 or later.
Size 204.3 MB
User reviews :
Kingdom Rush is one of the most impressive games I have ever played. It combines the best aspects of various genres to create an amazing experience all around – the depth of character and fantastic story of traditional RPGs, the side-scrolling action of classic adventure games, and the tactical depth of long-lived RTS titles all wrapped up in a neatly packaged tower defense game that will keep you entertained for hours.The vast cast of characters you have at your disposal will keep you engaged throughout each different level. Different classes of heroes allow you to refine whatever style of gameplay you want, and the leveling system rewards you for investing time into these useful allies. Optional levels of difficulty provide a great sense of progression and replayability, and the entire game provides a rewarding experience for gamers of all kinds.In a world filled with pay-to-win games and ad-ridden time sinks, Kingdom Rush stands out as a stellar example of proper gaming enjoyment. Highly worth the initial investment of a few dollars, you have the choice to enjoy extra power-ups for the price of some of your time watching ads. Or you can invest in a powerful new hero to use on the battlefield – but no matter your choice, rest assured that Kingdom Rush will never force you to do so. The game is playable, and completion is perfectly achievable without spending an extra penny or watching a single ad.
Kingdom rush was my first game when I had an IPhone 5s, about 6 years ago. I used to play Balloon Tower Defense 3 at school on the class computers, and when I found a similar tower defense game on the phone, I was hooked. I've played all of the Kingdom Rush Games, as well as Iron Marines, and I think the 5 dollars for this game is so worth it. Some levels are difficult, but not to the point of pay-to-play. I love this game series because Ironhide, unlike most game developers, really cares about its community and not the profit it makes. Honestly I'm shocked that this game series hasnt received as much attention as it deserves. But recently I feel like KR Vengeance, as cool as it is to play as the baddies and see the penultimate return of Lord Vez'nan himself, feels off. The devs are starting to go to the "pay to play" end of the spectrum, and when you have to pay for towers as well, it just seems unlike Ironhide.TLDR; never change, Ironhide. Your games are freaking amazing. 😀
Get Kingdom Rush from App Store
What is your opinion about Kingdom Rush
Get more free apps & games daily
Subscribe to our mailing list and get free apps & games daily to your email inbox.
Thank you for subscribing.
Something went wrong.
Summary
Reviewer
Review Date
Reviewed Item
Author Rating