(App) Keto Diet Tracker
iphone apps info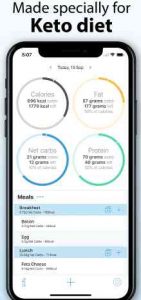 App Description :
This app is like having your own Keto nutritionist in the palm of your hand. Losing weight has never been so simple! Not only is this the easiest-to-use app for tracking macros, but it's also the best-designed app without all of the clunkiness and bugs that come with other apps.
Try it for free to get your own custom macro plan and much more! A subscription is needed only if you want to enter 5+ foods per day.
No subscription needed if you make a one-time purchase in the app.
App Features :
Simply enter your current body type, your goal, and your activity level for a personal macro plan!
Track your food consumption each day meal by meal to see how it fits into your daily macro plan!
Search our massive database filled with all of the foods, beverages, restaurant items and pre-packaged products you can think of for macros and carb counts or simply scan the product's barcode!
We can automatically subtract sugar alcohols and dietary fiber for true net carb count. (With the option to track net or total carbs)
Create your own custom meals and save them for later use. (With the option to adjust amount eaten for new macros, in case you get full before finishing a meal or decide to have seconds)
Access a large selection of Keto recipes.
Create grocery lists based off of your favorite foods.
View recommended foods to avoid in order to stay on track for your daily goals.
We integrate fully with the Apple health app and FitBit, making exercise a breeze if you want to track burned calories and steps.
Track the amount of water you drink each day to stay hydrated.
Track progress by entering changes in your weight.
Access a Q&A Section that clearly answers frequently asked questions.
Export food logs to PDF file.
Product databases for USA, Australia, Canada, India, Ireland, New Zealand, Singapore, Russia, South Africa, and the United Kingdom.
Purchase a PRO Subscription to get the most out of your keto tracker, while saving money. PRO Subscriptions are available for several time periods:
1 month for USD $2.99
3 months for USD $5.99
6 months for USD $9.99
12 months for USD $11.99
A PRO membership is also available for a one-time payment of USD $29.99, which includes all PRO features and lifetime access.
If you choose to subscribe to a PRO membership, the purchase will be charged to your iTunes account. The subscription will be auto-renewed 24 hours prior to it running out, and you can manage it from the User Settings in iTunes after purchase. You have the ability to cancel the auto-renewing subscription in your iTunes settings. Any unused portion of the free trial period will be forfeited when you purchase any subscription.
Terms and Privacy Policy: keto.app/pp.htm
Contact us: ios[at]keto.app
Download Keto.app (formerly Keto Diet Tracker) today to achieve your health and fitness goals!
Additional Information :
Compatible with iPhone and iPod touch.
Requires iOS 12.0 or later.
Size 44.8 MB
User Reviews :
LOVE this app! Great tool for Keto
The app was recently updated to calculate sugar alcohol and dietary fiber in order to get a true net carb count. This was the ONLY this that this app needed. I love everything about this app. I can scan a barcode in for nutritional info (if it isn't in there already). It even has restaurant food (ie Chic fil A sandwich or Panera soup) It breaks your day down by meal or by carb count, calorie count, etc (however you'd like it to break down). You can easily copy from one day to the next if you eat the same thing frequently. If you're even thinking of eating a food you can see how it will affect your macros for the day and it won't save it unless you tell it to. So you can change your mind if it's going to put you over your limits! It's great. It even keeps track of my water intake (which really makes you conscious of how much you're drinking). Now I see that I can create a grocery list based off of my favorited foods. I haven't tried that yet, but I plan on it now that I know it's there. I used the free version for about a month then I upgraded to the PRO. It has way more features. Just spend the $12 or whatever it was. It was very inexpensive for something that I rely on every day to keep me in check. You won't be disappointed!! I only wish it was compatible with my iPad. I tried to install it today and it said it couldn't. Hopefully that will come in the near future.
Developer Response ,
Hello

Thank you for such a detailed review! 🙂

We'll try to add iPad support in further updates
Get Keto Diet Tracker from App Store
What is your opinion about Keto Diet Tracker
Get more free apps & games daily
Subscribe to our mailing list and get free apps & games daily to your email inbox.
Thank you for subscribing.
Something went wrong.