(App) iMovie
 iphone apps info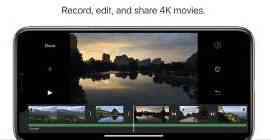 App Description :
With a streamlined design and intuitive Multi-Touch gestures, iMovie lets you create Hollywood-style trailers and beautiful movies like never before.
App Features :
Make Hollywood-style trailers
Choose from 14 trailer templates with stunning graphics and original scores by some of the world's top film composers
Customize movie studio logos, cast names, and credits
Select the best videos and photos for your trailer with the help of animated drop zones
Record video for your trailer right in iMovie
Create beautiful movies
Choose from 8 unique themes with matching titles, transitions, and music
Give your movie the perfect look with 10 Apple-designed video filters
Enhance your movie with slow motion and fast forward*
Easily add picture in picture, green screen, and split screen effects
Create a soundtrack using built-in music that automatically adjusts to match the length of your movie
Add sound effects, songs from your music library, and your own narration
Connect a keyboard and use simple shortcuts to edit movies quickly
iMovie everywhere
Easily transfer projects between your iPhone, iPad, and iPod touch using AirDrop or iCloud Drive
Send any project to your Mac via AirDrop or iCloud Drive to finish editing with iMovie or Final Cut Pro X
Connect an external display to your iPhone or iPad and choose to mirror the iMovie interface or display your video fullscreen while you edit
Share with friends and family
Send videos with Mail and Messages
Save to your photo library or share to YouTube in 4K or 1080p60
Save videos and iMovie project files to iCloud Drive
Share videos and iMovie project files with AirDrop
Use AirPlay to wirelessly stream video to your HDTV with Apple TV
2x speed-up is available on iPhone 6s, iPad Air 2, iPad mini 4 and later devices.
Requires iPhone 7 or later, iPad (6th generation) or iPad Pro (2017) or later
4K support is available on iPhone 6s, iPhone 6s Plus, iPad Air 2, iPad Pro, and later devices.
AirDrop requires an iCloud account and is available on iPhone 6s, iPad (5th generation), iPad Air 2, iPad mini 4, iPod touch (7th generation) and later devices.
AirPlay requires Apple TV (2nd generation) or later.
Additional Information :
Compatible with iPhone, iPad, and iPod touch.
Requires iOS 13.4 or later.
Size 619.3 MB
User Reviews :
So. It's very rare that I leave a review on apps, but this one deserves it. I have been having an absolute blast with this, especially since I've really gotten into drone photography and it's the perfect tool to make for video editing. My favorite feature honestly is making the movie trailers, it's so fun with a compilation of media. The ONLY issue I have with it is that I'd love more freedom. Once you pick the general theme it predetermines what you can do. It boxes you into a certain amount of clips per section and has a variety of different kinds that you cant control whatsoever. So for example. One section in the trailer would have 3 slots for clips. The first one would be a .9 second, the next one would be a 3 second closeup (which is very annoying since it zooms way in on the picture or video and there's nothing you can do to adjust it or stop it.) so if it's a video it could focus in and cut out what you actually want to show in the clip which makes it impossible to use a lot of media. The third one could be 1.5 seconds. The fact that you can't change the number of possible clips in a section and that you can't change the duration of any of the clips is very frustrating. But beyond that this is an AMAZING app that I will love using for a long time, definitely worth having to be more strategic on what media I place where.
Yes, iMovie is a great movie and trailer or film maker, you can make retro trailers/films/movies, romance, teens, family, fairy tale, swashbuckler, expedition, superhero, scary, coming of age, indie, Bollywood, adrenaline, and narrative movies films or trailers. I know, a lot of options . But… There should be an option where you can change the music and where you can have the images and videos you took on iMovie only be stored in the movies on your app, not the gallery. It is a huge waste of space for your device, especially if you make lots of movies/trailers like me. I wish you could make the trailers longer than a minute, and can make it 1-4 minutes at least for trailers. When making a trailer, you can't hear any talking or sounds just music. Maybe still keep the music, because that is still cool, but make there a setting where you can turn off music and can hear talking and sounds. Still a very great app I recommend, but I am just hoping for an update that will change that and further experience in the update. I hope this is good enough to explain the change I'd be grateful for and to explain to others who might download this app. Please make this change though, if not, it's fine but thx anyways
Get iMovie from App Store
What is your opinion about iMovie
Get more free apps & games daily
Subscribe to our mailing list and get free apps & games daily to your email inbox.
Thank you for subscribing.
Something went wrong.