(App) iHoroscope – Daily Horoscope
iphone apps info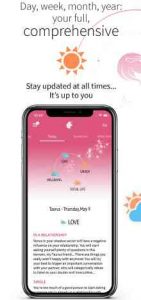 App Description :
HOROSCOPE APP, YOUR DAILY GUIDE!
Read your free horoscope for today, tomorrow, your week, month or even year on your phone or tablet!
App Features :
BESPOKE HOROSCOPES IN YOUR POCKET
The present, the future… What have the planets got in store for your love life, career or friendships?
Our horoscopes and astrological readings, written by hand picked professional astrologers, can guide you on a daily basis!
FREE ASTRO GOODIES
Test your love compatibility with every other sign of the zodiac and enjoy our seasonal and Chinese horoscopes! What has the summer got in store for you? What does your Chinese sign mean? We have the answers!
LIVE PSYCHIC READINGS!
Chat live with experienced psychics who will help you discover what the future holds. From the main menu, ask your question to the psychic of your choice and get a clear and precise answer within seconds. A bespoke service run by genuine psychics.
CUSTOM NOTIFICATIONS
Manage your notifications and simply hear from us about the things you like! Never miss a horoscope or any of our app features again.
Don't wait any longer, DOWNLOAD IT NOW!
Available features:
Horoscope for today and tomorrow
Horoscope for the week
Horoscope for the month
Horoscope for the year
Love compatibility
Seasonal horoscopes
Live readings
For questions/comments, don't hesitate to contact us: mobile-support[at]telemaque.fr
Additional Information :
Compatible with iPhone, iPad, and iPod touch.
Requires iOS 11.0 or later.
Size 287.5 MB
User Reviews :
I have used this app regularly for years and am finally writing a review. While it isn't perfect, can sometimes be glitchy and has too many ads (I really hate the timed ones), the content is great and I'm never dissatisfied with it. The horoscopes are on point, realistic and professional in tone. They are also deep and lengthy but not too long. I dislike the apps with horoscopes that are goofy and make jokes and give superficial, vague statements when all you want is some serious insight. This app's content provides just the right amount of it.
used to love this App and I've used it for years with no problems, even recommended it to all my friends & family. A few months back(maybe longer) when it updated & changed appearances a little, I've had nothing but trouble out of the App even deleted it & didn't use it for a long time so I decided to give it another shot again but with no luck! Way to many annoying ads( I understand the reason for them, but it seems like they are way more now than before), it takes forever to load & I have perfect signal & WiFi. If I scroll from left to right it always no matter what freezes right in the middle! Not to mention I've saw more Words misspelled and to many sentences that didn't make sense or used wrong wording than I ever have before. I know nothing is perfect & all apps have mistakes & I can deal with glitches here & there with no complaint (bc I get it, nothing's perfect) But to have the same issues every single day no matter what is frustrating, but with all these issues you'd think they would be fixed! Hope something happens soon bc i don't want to have to delete it again bc next time I'll have to just let it go & find a new one even though I don't want to
Get iHoroscope from App Store
What is your opinion about iHoroscope
Get more free apps & games daily
Subscribe to our mailing list and get free apps & games daily to your email inbox.
Thank you for subscribing.
Something went wrong.