(App) Hyperlapse from Instagram
free apps for ipod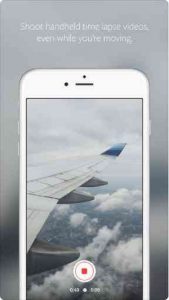 App Description :
Create amazing time lapse videos with Hyperlapse. Using Instagram's in-house stabilization, Hyperlapse shoots polished time lapse videos that were previously impossible without bulky tripods and expensive equipment.
When you shoot a time lapse video with Hyperlapse, your footage will be instantly stabilized to smooth out the bumps from the road and give it a cinematic feeling. Capture an entire sunrise in 10 seconds—even from the back of a moving motorcycle. Walk through the crowds at an all-day music festival, then distill it into a 30 second spot. Capture your bumpy trail run and share your 5k in 5 seconds.
App Features :
Shoot handheld time lapse videos in motion— while you're walking, running, jumping or falling.
Smooth out your video for cinematic quality with automatic stabilization.
Speed up your hyperlapse to be up to 12 times the speed.
Share your videos seamlessly on Instagram and Facebook or save them to your camera roll to share anywhere, anytime.
Start filming immediately with a simple design that gets out of the way of your creativity
Download and start capturing. No sign up or account required.
Additional Information :
Compatible with iPhone, iPad, and iPod touch.
Requires iOS 9.0 or later.
Size 18.8 MB
User Reviews :
The wonderfully minimal Hyperlapse creates stunningly smooth time-lapse videos without the need for tripods or carefully orchestrated filming. Its simple design lets you focus on shooting and, with a few quick taps, you can edit the speed of your videos and share them on Facebook and Instagram.

I use this all the time for time lapse vids of my sketches. The biggest feature I wish this app would have is: after a video has been processed in the speed you selected, it would be nice to be able to go back to that speed selection and process it in a different speed. Sometimes I like to have longer videos in my IG TV, for example, and a shorter version of it in my regular IG post. The option to re-render a video in a different speed would be fantastic.

Another 2nd feature that would be great: very minimal editing options, just in regards to being able to cut out parts of the video that might have some dead air, or even the option to have part of the video in one speed and another part have a different speed!

I assume that the devs probably want to keep the app simple, but I feel like these changes would greatly enhance the user experience without complicating the overall design and functions of the app for users.

I've been using Hyperlapse since it was released & it's be far one of the best functional apps I've ever used. The option to choose the speed of the timelapse is so great. When I'm recording a timelapse of my newborn, then 2x speed makes his movements look great, or when I was in Iceland this past year, the 8x speed was appropriate to speed up 10 minutes of driving by mountain ranges & convert into a couple of minutes.

I also just really think that the negative reviews are based on those users devices & likely too much software that isn't based from Hyperlapse but from corrupt data or software issues.

I've never come across any of the negative claims & I just very much appreciate this app!
Get Hyperlapse from Instagram from App Store
What is your opinion about Hyperlapse from Instagram
Get more free apps & games daily
Subscribe to our mailing list and get free apps & games daily to your email inbox.
Thank you for subscribing.
Something went wrong.
Summary
Reviewer
Review Date
Reviewed Item
Hyperlapse from Instagram
Author Rating