(App) Headspace – Meditation & Sleep
iphone apps for free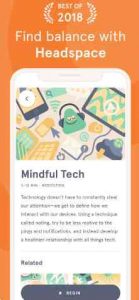 App description :
Headspace is your guide to health and happiness. It's the simple way to let go of stress and get a better night's rest. Learn to relax with guided meditations and mindfulness techniques that bring calm, wellness and balance to your life in just a few minutes a day. Plus, Sleep by Headspace helps you create the ideal conditions for a good night's rest.
Get more from your day through mindfulness, be less distracted and reactive, and focus on the things that matter most to you. The Basics course is completely free and will teach you the fundamental techniques of meditation and mindfulness. After that, by subscription, gain access to the full Headspace meditation library. Train your mind with guided meditations on everything from managing stress and anxiety, to getting a better night's rest, to relationships. Bring more awareness to daily activities through on-the-go exercises, and use SOS sessions to skillfully manage moments of panic or anxiety. Get the rest you deserve at night with the help of Sleep by Headspace, which includes sleepcasts and sleep sounds. The Headspace animation library is full of tips and helpful wisdom to keep your practice on track, and you can even add friends to keep each other motivated.
WHAT THIS MEDITATION AND SLEEP APP DOES:
Headspace teaches you how to meditate, breathe, and live mindfully. It's even been proven to improve focus. There are exercises on topics including managing anxiety, stress relief, breathing, happiness, and focus. Don't worry if you've never meditated before. There's a free Basics course that will teach you the essentials of meditation and mindfulness.
As part of the Sleep by Headspace experience, there are sleep meditations, sleep sounds, and specially-designed sleepcasts to guide you to a place of rest. Sleep by Headspace was built around the needs of restless sleepers so the screen is darker and the buttons are easy to find. After all, no one wants to look at a bright screen at night. It's perfect whether you have trouble falling asleep, or you wake up in the middle of the night.
App Features :
Hundreds of guided meditations on subjects like focus, exercise, and sleep
Sleep by Headspace to help you drift off
Everyday Headspace: daily meditations on a new topic each day
"Mindful Moments" to keep you present throughout the day
2-3 minute "mini meditations" for a quick mental reset
"SOS" sessions for moments of panic, anxiety, and stress
Headspace animations to teach you new skills and answer your mindfulness questions
Track your progress and time spent meditating
Add Mindful Minutes to Apple Health
Buddy up and add your friends to meditate with you
Guided meditations and mindfulness exercises for Kids with sessions on Kindness, Calm, and Focus
Training led by former monk and renowned mindfulness expert Andy Puddicombe
SUBSCRIPTION PRICING AND TERMS
Headspace offers two auto-renewing subscription options:
$12.99 per month
$94.99 per year
These prices are for United States customers. Pricing in other countries may vary and actual charges may be converted to your local currency depending on the country of residence.
The subscription will automatically renew unless turned off in your iTunes Account Settings at least 24 hours before current period ends. You can go to your iTunes Account settings to manage your subscription and turn off auto-renew. Your iTunes Account will be charged when the purchase is confirmed. If you subscribe before your free trial ends, the rest of your free trial period will be forfeited as soon as your purchase is confirmed.
Headspace also offers a Forever subscription which is paid for by a one-off upfront payment of $399.99 with unlimited access to the Headspace Collection forever.
Headspace integrates with the Apple Health app.
Read the terms and conditions here
www.headspace.com/terms-and-conditions
Read the privacy policy here
www.headspace.com/privacy-policy
Additional Information :
Compatible with iPhone, iPad, and iPod touch.
Requires iOS 10.0 or later.
Size 158 MB
User Reviews :
If you're like us, you need all the help you can get turning rare quiet moments into true meditation. Headspace's rich, accessible lessons gently explore how to improve mindfulness. Oh, and we love how Headspace's Apple Watch app lets you hit a literal panic button when extra-stressful situations arise.
I'm a speech language pathologist and love this this app for both personal use and as a recommendation to patients. A growing body of research is showing correlations between practicing meditation and better health outcomes for individuals recovering from traumatic brain injury. I've used this app with mTBI patients and it's been a quick and easy way to add meditation to their therapy regiment. They find it easy to implement. Andy is a fantastic guide and a huge part of what makes the app more than a tool – it's like being taken on a personal, scaffolded journey into the world of meditation. He's kind, generous yet simultaneously specific and full of helpful feedback – these a qualities that are rare and can't be manufactured. As a result, my only recommendation is in regards to the upbeat female host who they've recently added guiding recording of. I find her energy overwhelmingly upbeat, energetic and even annoying. Patients and colleagues have shared similar feedback. It would be unfortunate for a patient to try a meditation with this host once and decide against future use. I am sure there are other great potential hosts out there – this particular host just starkly contrasts the 'brand-like qualities' I've come to associate with this app and why I have recommended it to many patients.
Get Headspace from App Store
What is your opinion about Headspace
Get more free apps & games daily
Subscribe to our mailing list and get free apps & games daily to your email inbox.
Thank you for subscribing.
Something went wrong.