(App) Google Home
iphone apps for free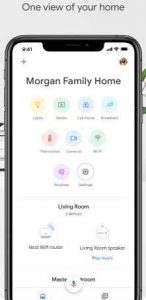 App Description :
Set up, manage, and control your Google Home, Google Nest, and Chromecast devices, plus thousands of connected home products like lights, cameras, thermostats, and more – all from the Google Home app.
App Features :
One view of your home.
The Home tab gives you shortcuts for the things you do most, like playing music or dimming the lights when you want to start a movie. Control it all with just a tap – and get to the good stuff faster. The Feed tab highlights the most important events in your home all in one place. Here you'll also find ways to get more out of your devices and improve your home setup.
Create routines that allow you to turn on lights, check the weather, play the news, and more with one simple command.
See all the active audio and video streams on all your home devices in one place, change their volumes, skip to the next track, or quickly change which speakers they're playing from.
Understand what's going on at home with a glance. The Google Home app is designed to show you the status of your home and keep you up to date with what you missed. Check in on your home anytime and see a recap of recent events. You can also get a notification if something important happens while you're away.
Set up your Nest Wifi in minutes using the Google Home app. Manage your network from your mobile device. Run speed tests, set up a guest network, and easily share your Wi-Fi password with family and friends. Decide which devices to prioritize for faster speeds and use parental controls like Wi-Fi pause to manage online time for the kids.
Some products and features may not be available in all regions. Compatible devices required.
Additional Information :
Compatible with iPhone, iPad, and iPod touch.
Requires iOS 11.0 or later.
Size 304.8 MB
User Reviews :
The first iteration of the Google Home app was fine for launch, but there are certain features and refinements that were missing, then they made it a little convoluted by switching you back and forth between Home and Assistant for some reason, but this new version is exactly what I'd expect from Google. The UI/UX is phenomenal and the features you actually expect are right at your fingertips when you open the app, such as the ability to see every device and manage their basic operations with one click and not having to dig through various apps to target such devices manually. The addition of pairing a Bluetooth speaker has been long awaited but also the ability to make a speaker group and simultaneously play music through all of them is another feature I had been waiting for as someone who has speakers throughout the house. Google, you truly nailed it with this update and I really hope the majority of the updates are minor fixes and routine maintenance, because as it stands, this app feels polished and feature rich!
Manually the switches work ok, connecting to the TV will only work some times. Chrome cast is a pain. I did a lot of work and is not paying off. I ask for a specific song and it only works on a single speaker, if I am using a group of speakers, google plays what ever it wants. I got three chrome cast and they were fine at first but after a few weeks voice commands to chrome cast stoped working on all three. Google says it doesn't recognize that device, I reset to factory, start all over and nothing. I am getting board of this I am thinking of going back to apple TV. What a waste of money. I have 5 nest cams and they connect and disconnect constantly, that problem came after google took over. I am angry about that security problem. I tried everything to have the system recognize only my voice so people couldn't open my garage or my front door, that does not work. I even had a google tech help me set that up, thats not safe, anyone who knows what I named the door can simply ask google loudly through my glass window or glass door and it opens anything. Google is not safe . I regret all the money spent on this worthless system.
Get Google Home from App Store
What is your opinion about Google Home
Get more free apps & games daily
Subscribe to our mailing list and get free apps & games daily to your email inbox.
Thank you for subscribing.
Something went wrong.