(App) Garmin Connect
iphone apps info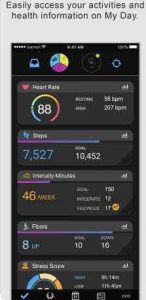 App Description :
Garmin Connect™ is your one-stop source for health and fitness data. Whether you're training for a race or tracking steps, it provides the information and inspiration you need to beat yesterday.
Once paired with a compatible(1) Garmin device, activity tracking is just the beginning of what Garmin Connect™ can do for you. You can create new workouts, build courses and even challenge your friends to compete, all within the app.
App Features :
Garmin Connect™ is packed with useful features, including the ability to:
View today's health data in vivid detail on your personalized My Day page.
Analyze your activities and their related statistics.(2)
Create customized workouts and courses.
Sync with other apps like Apple Health, MyFitnessPal and Strava.
Review personal records for steps, distance and pace.
Earn badges for accomplishments.
See how you measure up to other Connect users with Insights.
Get support for Garmin devices and their features.
Are you ready to join millions of users who walk, run, bike, hike and strive to beat yesterday? Learn more about Garmin devices and how they work with the Garmin Connect™ app at Garmin.com.
(1) See compatible devices at Garmin.com/BLE
(2) Activity tracking accuracy: Garmin.com/en-US/legal/atdisclaimer
Note: Continued use of GPS running in the background can dramatically decrease battery life.
Additional Information :
Compatible with iPhone, iPad, and iPod touch.
Requires iOS 11.0 or later.
Size 1.3 GB
User Reviews :
Overall I really like Garmin app & Garmin products. Am currently on my 5th Garmin watch over 7 year period. I currently use a Garmin 235 and am anxiously awaiting its replacement. I find Garmin Connect has been a very reliable application and has all the data I need. I find it has all features I need and several more that I've never gotten into. My only qualm with Garmin over the years is their heart rate measuring devices… to me it's their weak spot. I have had issues with heart rate straps dating back to my first Forerunner 25 up through my Forerunner 620. I switch to wrist based on 235 and find it's maybe 90-95% reliable – unfortunately that 5-10% comes at the most inopportune times! Like during the Boston marathon in 2017 or other critical races or workout. Actually it's the Garmin Connect app that kept me with Garmin running watches. I know Polar does a better job tracking heart rate but I like the Garmin Connect app enough, plus have years of data on it. Am hoping that improvements to the 235 replacement will include better more reliable heart rate tracking..
I've been a been a Garmin user for a long time and at times I really question my loyalty because their software updates for devices frequently cause new issues, loss of functions, etc. (Some issues have taken months to resolve, eg when Strava segments updates weren't transferring to Garmin devices.) Why am I bringing up device software issues on an app review? It's because the app has the same issues, eg I bought a Fenix 5 about 7-8 days ago and it was working great with this app, I had all the functionality that I was supposed to until I updated the Garmin app this morning. Now the weather and the Physio TrueUp functions aren't syncing to the watch. All the rest of my software is up to date so it's not another software issue. Stupid me, for forgetting how many times I've updated the app when everything was already good and only to have a month or two until it finally gets fixed. This cycle repeats itself with Garmin every few months. Apparently there is no testing before an update release. As such, I encourage all to ask "is everything working well? If yes, then do I really need to update the app?"
Get Garmin Connect from App Store
What is your opinion about Garmin Connect
Get more free apps & games daily
Subscribe to our mailing list and get free apps & games daily to your email inbox.
Thank you for subscribing.
Something went wrong.