(App) Duo Mobile
 iphone apps info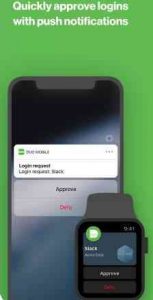 App Description :
Duo Mobile works with Duo Security's two-factor authentication service to make logins more secure. The application generates passcodes for login and can receive push notifications for easy, one-tap authentication on your iPhone, iPad, or Apple Watch.
App Features :
Additionally, you can use Duo Mobile to manage two-factor authentication for other application and web services that make use of passcodes.
Note: For Duo accounts, Duo Mobile needs to be activated and linked to your account before it will work. You will receive an activation link as part of Duo's enrollment process. You may add third-party accounts at any time.
License agreements for third-party Open Source libraries used in Duo Mobile can be found at www.duosecurity.com/legal/open-source-licenses.
Additional Information :
Compatible with iPhone, iPad, and iPod touch.
Requires iOS 11.0 and watchOS 2.0 or later.
Size 27.9 MB
User Reviews :
As far as working as a 2fac this app is fine, it does that. The issue with it is that it's a really simple app but has an annoying interface. If the buttons for the push notification could be moved to a more thumb friendly location that would be great. It's just a screen with 2 buttons, there's no reason to make me adjust my grip on the phone so I can reach the accept button. I should be able to pick the phone up and hit the button in one motion. Not pick the phone up fumble with the position in my hand then hit the button. It's annoying and unnecessary. The whole screen is there to use for this purpose and is empty. The buttons are large but the phone screen is also large and it puts the buttons out of comfortable reach for one hand use. Stack them in the middle or something. Maybe a flick gesture, or both, I dunno.
Developer Response ,
Thanks for your feedback, Johnnie. I'll share your comments with our developers. You might find it easier to approve a push from the lockscreen, as seen in this article: help.duo.com/s/article/3142 Please give that a try in the meantime and see if it helps
Seeing all the low ratings based on a business' or university's decision to apply additional security to their networks, I had to add my two cents. It is 2FA, not Duo, about which most are railing. If you don't like 2FA, rid the world of hackers and thieves that will use every available means to get into any network they can. Until you accomplish that, accept the fact that for those trying to secure a network, 2FA is a necessary precaution, much like a deadbolt on a door. And Duo is a good method for applying 2FA. We primarily use Duo Push for accessing our systems and it works very well. Unrelated note: Duo works much better than this rating system, which will tell you after the fact that a nickname has been used but won't suggest one that hasn't been…
Developer Response ,
Thank you for your review!
To be truly honest, this app is a wonderful authenticator. The interface is incredibly user-friendly and allows you to clearly identify the account you want to use (through the website's picture/ logo). If you have used other authenticator apps in the past, setting up a manual account is the exact same process. Having a host set up MFA, such as a college, is an even easier setup. I use this for most of my online accounts and Duo Mobile has been quick, easy and efficient. I flat out love it. Keep up the great work Duo!
This app works fine for my university 2FA with a combination of a pin and push notification however, plenty of times my phone has been out of battery or the class strictly does not allow phones and I am not able to access my assignments, quizzes, tests etc. If there was a desktop version of the app that would be amazing. I do not see a huge security risk for this either, because if someone already has gained access to your personal computer, you may have many other unsecured important things to worry about such as auto fill passwords and logins.
Get Duo Mobile from App Store
What is your opinion about Duo Mobile
Get more free apps & games daily
Subscribe to our mailing list and get free apps & games daily to your email inbox.
Thank you for subscribing.
Something went wrong.