(Game) Dota Underlords
free games for ipod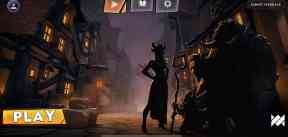 Game Description :
Works with: iPhone SE, 6S, 6S Plus, 7, 7 Plus, 8, 8 Plus, X, XS, XR; iPad Mini 4, 5; iPad Air 2, 3; iPad Pro, iPod Touch 7th Gen
Dota Underlords not supported on: iPhone 5S, 6, 6 Plus; iPad Air, Mini 2, 3; iPod Touch 6th Gen and below
Game Features :
STRATEGIZE TO WIN: Recruit heroes and upgrade them into more powerful versions of themselves.
MIX AND MATCH: Each hero you recruit can form unique alliances. Stacking your team with allied heroes will unlock powerful bonuses that can crush your rivals.
CROSSPLAY: Play on your platform of choice and battle players across the globe in a hassle-free crossplay experience. Running late? Start a match on your PC and finish it on your mobile device (and vice versa). Your profile in Dota Underlords is shared across all devices, so no matter what you play on, you're always making progress.
LIGHTNING-FAST NETWORK: Underlords runs on a shiny new network system for lag-free experiences.
RANKED MATCHMAKING: Everyone starts at the bottom, but by playing against other Underlords you'll climb through the ranks and prove you're worthy to rule White Spire.
TOURNAMENT-READY: Create your own private lobbies and matches, then invite spectators to watch 8 Underlords duke it out.
OFFLINE PLAY: Offering a sophisticated AI with 4 levels of difficulty, offline play is a great place to hone your skills. Pause and resume games at your leisure.
SEASONAL ROTATION: Every season we'll say goodbye to certain Heroes, Items, and Alliances to make room for new additions that will shape the ever-evolving world of Underlords.
WHITE SPIRE AWAITS A LEADER…
A vertical metropolis of gambling and grit, just beyond the reach of Stonehall and Revtel; White Spire is known as a smugglers' paradise with loose morals and colorful residents to spare. Despite being overrun with syndicates, gangs, and secret societies, White Spire has never descended into chaos for one reason: Momma Eeb. She was respected… she was loved… and unfortunately, she was murdered last week.
Eeb's death has sent one question rippling through White Spire's underworld: who is going to run the city?
Additional Information :
Compatible with iPhone, iPad, and iPod touch.
Requires iOS 11.0 or later.
Size 146.2 MB
User Reviews :
It's amazing how well this game was designed for mobile as well as PC. They function identically, all the buttons and actions are in the same places, the only thing you miss out on is hot keys but thankfully the UI is simple enough to understand. The graphics are great although I did experience significant frame drops on my iPhone X in later rounds when there's 20 characters on the screen. It actually made it more difficult to strategize and complete my actions due to the slowdown, which is why I had to knock off a star. Valve can certainly update the game to run better in the future of course, in fact I saw improvements in this latest patch. Overall, I recommend this to anyone who has a passing interest in auto chess.
Had to delete it, there isn't enough time in my schedule and it is addicting. Still, I would have loved playing this daily if I had the time so I will live vicariously through you.There is a large learning curve, but it is worth the effort as you will find a complex strategy game with near infinite replay-ability. It is not really possible to exploit combos as you get different hero choices each game/battle and have to roll with it on the fly.For beginners: you can play an untimed tutorial, and after that against AI until you figure things out. The game also lets you watch other players in your game, including after you lose (you can continue to spectate). Tip: pay attention to the hero's clans (each has 2-3) and the synergy… if you don't, you won't have a chance at 1st place, after the first few ranks.
Get Dota Underlords from App Store
What is your opinion about Dota Underlords
Get more free apps & games daily
Subscribe to our mailing list and get free apps & games daily to your email inbox.
Thank you for subscribing.
Something went wrong.