(App) Daily Workouts Fitness Trainer
iphone apps info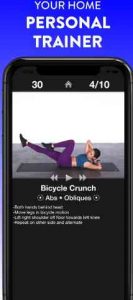 App Description :
Your own personal trainer wherever you are! Quick and effective workouts!
App Features :
Ten different 5 to 10 minute targeted workouts
10 to 30 minute randomized full body workouts
100+ exercises
Great for both men and women
Video showing how to do each exercise
Developed by a certified personal trainer
On-screen instructions and timer
No internet required to do most workouts (streaming videos require internet)
Integrates with Health app (calories burned data will push to Health app at end of workout if calorie calculation app setting is turned on)
Daily Workouts FREE is a great 5 to 30 minute daily workout routine for men and women that steps you through some of the best exercises you can do in the comfort of your own home. These proven workouts, demonstrated by a certified personal trainer, target all major muscles. Spending just minutes a day can strengthen and tone your body. The routine's simple interface, complete with video and timer, allows you to easily follow along and understand each exercise. Simply select your routine and follow along!
If you like Daily Workouts FREE, check out the full version which features:
More exercises
More workout routines
Pilates, kettlebell, stretch and ball workouts and more
Random and custom workouts
Ad-free
Additional Information :
Compatible with iPhone, iPad, and iPod touch. Apple TV.
Requires iOS 10.0 or later.
Size 59.4 MB
User Reviews :
I almost never write reviews for workout apps because if they don't work for me I just delete them and when they do I'll just keep them on my phone and sometimes I forget about them. I should've written a review for this a long time ago. I love these app workouts they're easy enough to keep up with, but difficult enough to feel the burn or soreness after. When I'm in a pinch I love using these. I always upload them every time I get a new phone. So worth it. You can do them anywhere too. Home, gym, hotel, park, beach, etc. I love that it tells you how many workouts you have left and has the timer too. I also like that it gives you about 3 secs to get into position before starting the next workout. One tiny critique that I would give is to maybe have a more scenic background or change it up a bit for the next upgrade so it doesn't seem like these are dated. Other than that she has great workouts. Thank you for the apps and making them free!
I've downloaded this app on almost every device I've had and it's always been amazing. It's maybe not good for people who workout daily BUT it's good if you just want a quick workout or if you haven't exercised in a while and want to take a step towards better health or just some sort of physical activity. It's amazing because you really feel the burn and get sore & it isn't workouts you can't do. After some time they get really easy because they are repetitive but over all it's a great app that isn't constantly asking you to pay for everything. Ofc it happens with some things but it's not as crazy as others.
I'm in high school and it's hard for me to stay in shape in between seasons. This app is great for helping me stay in shape and work on the spots I want to improve! Plus, the visual way it's shows u how to do the workout is crazy helpful!! I've had to look at picture by picture explanations in other apps I've tried in the past that weren't helpful at ALL but this app has a lady showing you exactly how to do it along with you! My only complaint is that the FULL version is 10 freaking dollars!!! I say get this app and if you need the upgrade I say get it cause it looks worth it but it's just not right for me…
Get Daily Workouts Fitness Trainer from App Store
What is your opinion about Daily Workouts Fitness Trainer
Get more free apps & games daily
Subscribe to our mailing list and get free apps & games daily to your email inbox.
Thank you for subscribing.
Something went wrong.