(App) Daily Butt Workout
iphone apps for free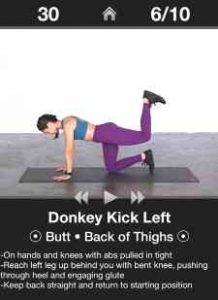 App Description :
Your own personal trainer wherever you are!
App Features :
Two different 5 to 10 minute butt-toning workouts
Great for both men and women
Video showing how to do each exercise
Developed by a certified personal trainer
On-screen instructions and timer
No internet required to do the workouts
Integrates with Health app (calories burned data will push to Health app at end of workout if calorie calculation app setting is turned on)
Daily Butt Workout FREE is a great 5 to 10 minute daily butt and leg routine that steps you through some of the best lower body exercises you can do in the comfort of your own home. This workout is developed and demonstrated by a certified personal trainer, and spending just minutes a day can strengthen and tone your butt and legs.
The routine's simple interface, complete with video and timer, allows you to easily follow along and understand each exercise.
If you like Daily Butt Workout FREE, check out the full version which features:
More workouts
Random & custom workouts
Ad-free
OR
Check out the "DAILY WORKOUTS" full version for multiple workouts including ab, arm, butt, cardio, leg and full-body routines. Daily Workouts now also has Pilates, stretch, kettlebell and ball workouts and more!
Additional Information :
Compatible with iPhone, iPad, and iPod touch.
Requires iOS 10.0 or later.
Size 19.7 MB
User Reviews :
I'm the kind of person who would love to go to the gym every day, but I have really bad anxiety, which makes it a struggle to go to the gym by myself. This app has helped me out for years, giving me workouts I can do in the comfort of my own home. And as time has passed, I've been able to modify and add onto them- adding weight and resistance bands for a better effect. Even on days that I do go to the gym to lift, I'll sometimes come home and do these workouts for an added boost! I love this app and I'll continue to use it!
Love love love it, Never thought I'll ever be the one doing exercise, This app has got so me confident I'm now able to participate with my sister at the gym without feeling like I don't know what I'm doing Thanks
This feedback applies to all apps by Developer. No question I enjoy using the apps and have, for years. One issue: after a while there is no variety in the exercises, even when used in different order on the Custom setting. Please add more exercises. Also, for the 8-10 min workouts, I would like to be able to add a couple more 30 sec exercises than doing the same exercises 45secs or 1 minute.
Get Daily Butt Workout from App Store
What is your opinion about Daily Butt Workout
Get more free apps & games daily
Subscribe to our mailing list and get free apps & games daily to your email inbox.
Thank you for subscribing.
Something went wrong.